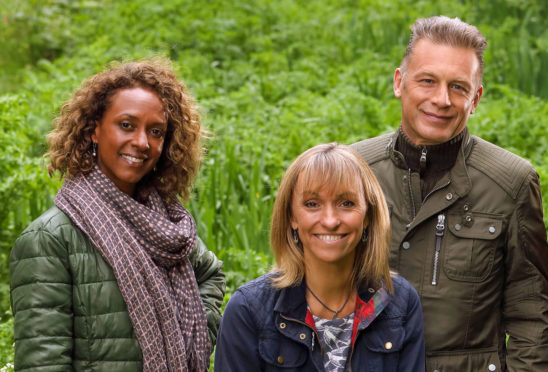 The Cairngorms National Park is to become the new home of BBC Two's Winterwatch, Springwatch and Autumnwatch next year.
Presenters Chris Packham, Michaela Strachan and Gillian Burke will host the wildlife extravaganza, kicking off the year in the depths of winter as Winterwatch returns in January.
The programme's team will be based at The Dell of Abernethy, a lodge built in 1780 on the edge of the Abernethy Caledonian pine forest.
Staying for the whole year, the team will showcase the region, seeking out the wildlife that thrives in this habitat, and looking at the people and projects working to conserve it; including the UK's largest landscape-scale conservation project, Cairngorms Connect.
---
---
Michaela Strachan said she was excited to be going to the Cairngorms.
She said: "It's such a stunning place. Full of wildlife, dramatic, wild and very, very cold.
"The wildlife always delivers from golden eagles to mountain hares, wild cats to black grouse, ptarmigan, pine marten, red squirrel, water vole, otter.
"The Highlands have a wonderful diversity of wildlife and habitats. It's one of those places in the UK where you can really connect with the natural environment."
Chris Packham said: "This is the happening zone in conservation and home to the most amazing diversity of sexy species. I can't wait".
A spokesperson for Cairngorms Connect commented: " We are really excited that this year's BBC Winterwatch, Springwatch and Autumnwatch programmes are all being based in the Cairngorms National Park in 2019.
"We are delighted that the Watches have decided to feature the work of Cairngorms Connect, the UK's biggest habitat restoration project which covers 60,000ha and some of Britain's most spectacular habitats and species."