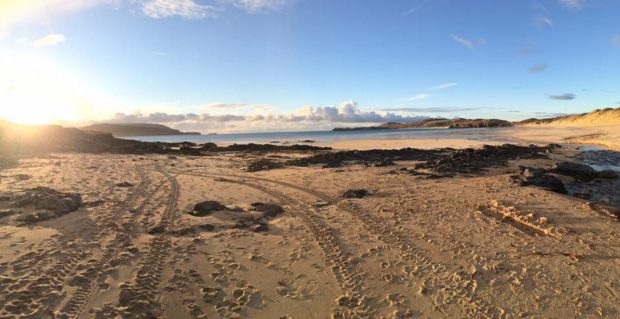 A Highland resident has spoken of her outrage after discovering chemical waste had been dumped at a popular beauty spot.
Kelsey Louise Keith, 23, from Durness, travelled to Balnakeil Beach recently to take her dogs for a walk when she made the "vile" discovery in the car park.
The shepherdess said: "I went to walk the dogs with my sister about 9.30pm beacuse the beach was lovely and quiet and I was just finishing work right next to the beach. We have a lot of dogs between us so we pick a time when the beach is quiet.
"I pulled up and went to the back of my van to let the dogs out and thought 'oh, the council have re-done the drains or something' because the drain was really noticeable. On closer inspection i realised it was mushed up toilet roll accompanied by human waste. I was totally disgusted."
With thousands of tourists taking on the NC500 each year, Miss Keith says this isn't the first instance of such behaviour to have come to her attention, having previously heard of similar cases in Caithness.
However, her main concern lies with the underlying impact this could have on humans and animals alike.
She added: "Kids and dogs play here and with the NC500 now well established and increasing amount of tourists and traffic, we are seeing more and more people that don't have any respect for these beautiful places.
"It's horrible for anyone to see. The neighbouring farms' cows roam the beach and graze this area. The thought of any of them ingesting this; its vile."
Local councillor Hugh Morrison said that there is "more and more of it happening" across the north.
He said: "The council have to take a bit of blame because they are closing toilets. It's ludicrous you would close toilets and also Visit Scotland take a lot of the brunt as well because they are closing the visitors and information centre in Durness as well.
"If the tourist information centre was open these people in the campervans might go in and ask where the nearest point would be of disposing their chemical toilets but they have nobody to ask, nobody to guide them so Visit Scotland certainly have a lot to answer for in my book as well."