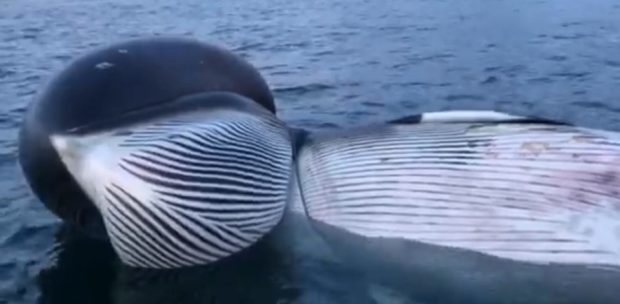 A young whale has died after it became entangled in what are thought to have been creel lines off the north-west coast of Scotland.
The Scottish Marine Animal Strandings Scheme (SMASS) received reports of the minke whale's plight last week, with the youngster found bloated and floating on the surface.
It had been dead for a couple of days and was discovered with rope wrapped around its head.
Researchers from SMASS believe that due to the severity of the entanglement, it is likely the whale drowned "very soon" after it was caught up in the creel lines.
Like all mammals, minke whales must breathe fresh air and have to surface regularly.
A spokesman for SMASS said: "The rope is visibly attached to the animal, which appears to be anchored and isn't drifting with the tide.
"While rapid drowning is perhaps better than enduring the suffering caused by chronic entanglement, this does highlight how difficult it is to help in some cases.
"Minke whales are the smallest mysticete species in our waters, and are less powerful swimmers, therefore less able to escape, or surface to breathe, once entangled."
The relatively small whales grow to around 26 feet in length, and can be found in waters around Scotland.
The SMASS spokesman continued: "Entanglements aren't just a Scottish problem, they occur globally wherever marine animals and fishing gear overlap.
"However, the good news is that in a bid to address these here, the Scottish Entanglement Alliance is working with the inshore creel fishing industry to better understand the scale and impacts of marine animal entanglements.
"No entanglement is deliberate and fishermen are often as upset, if not more, by these events as anyone.
"It is vital that we continue to develop positive working relationships with the inshore fleet and support and work with fishermen to try and prevent these incidents in the future."
Minke are the second-smallest type of mysticete – or baleen – whales in the world and filter-feed on small fish, krill and more.
They are the most commonly found baleen whales in Scotland, with the seas off the Inner Hebrides, the east coast of Lewis, west of the Isle of Skye and the Outer Moray Firth on the east coast among the areas in which they are most regularly found.