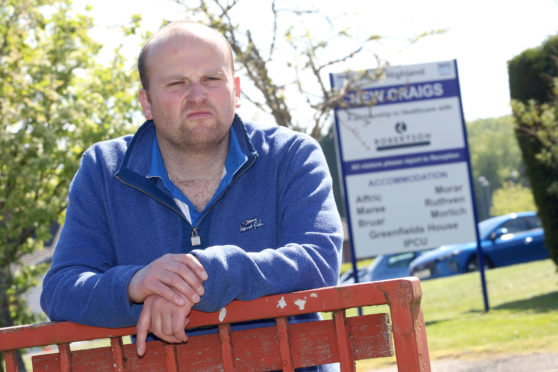 Under-fire health bosses have ordered a probe into the handling of care for a victim of the Cyril Smith-linked paedophile ring who was left waiting five years for psychiatric help.
Peter Todd, 37, of Caithness, has threatened NHS Highland with legal action over his claims of a "series of failures" in his treatment.
He has met with the authority's new chief executive Iain Stewart in high level talks involving nursing medical director Heidi May and Highland Conservative MSP Edward Mountain.
---
>> Keep up to date with the latest news with The P&J newsletter
---
He is delighted a new investigation is to be carried out into his "whole case from start to finish".
It is understood this will be undertaken by one of the newly-appointed non-executive directors who have taken up posts on the NHS Highland board since the bullying scandal was exposed last year.
NHS Highland has refused to comment about the meeting, but has said: "We are currently conducting an investigation internally into the complaints.
"For reasons of patient confidentiality, we are unable to discuss the specifics of this case."
The health board has already apologised for leaving Mr Todd waiting five years for an appointment.
He is now receiving psychiatric appointments at New Craigs Hospital in Inverness, but faces a 17-hour, 250-mile round trip each week.
Child abuse victim to sue NHS Highland over psychological care
Mr Todd has complained about the withdrawal of hospital accommodation for appointments, adding he had to fight "tooth and nail" to see a female specialist, saying he could not face speaking to a male after suffering years of abuse by men.
Although he has sought legal advice about action against NHS Highland, he has welcomed the latest move by the health authority.
He said following the meeting: "It's been decided to have a review which will be carried out by somebody with a clean set of eyes.
"They are going to look at everything from the wait I had, the accommodation fiasco, confidentiality of breaches, unprofessional and intimidating behaviour from NHSH managers and transportation issues.
"That way I can get some honest answers, people are held to account and lessons are learnt from this fiasco so others are not put though what I've had to endure."
Mr Todd, who has recently given evidence at an ongoing inquiry in England into child abuse at a school he attended and was allegedly involved in a paedophile ring linked to MP Cyril Smith, added: "NHS Highland has a duty of care to make sure patients access treatment in a safe way. I want honest answers and those culpable held to account. I want lessons to be learned."