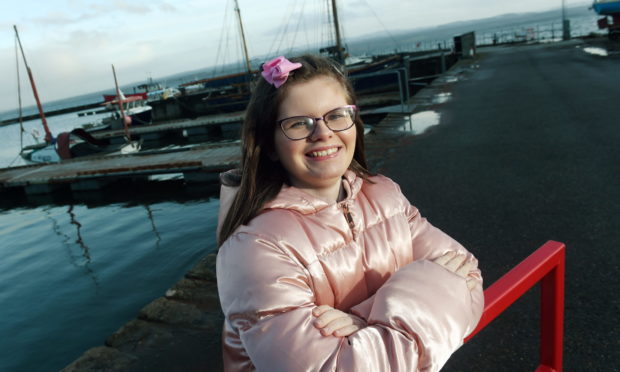 A Black Isle teenager has been acclaimed as an inspirational speaker after giving a series of school assemblies on autism.
Victoria Wyllie, 16, from Avoch is in S4 at Fortrose Academy.
She was diagnosed with autism three years ago and endured a difficult school life which included taunts and bullying.
The abuse continued into secondary school, and Victoria said that, by that stage, she was in danger of "falling apart".
Yet, once she received her diagnosis, the teenager revealed everything fell into place and she could finally understand why she was "different" and often labelled "the weird kid."
She said: "I researched autism on the internet, and it was as if my life was complete, as if I knew who I was.
"I had been living with it under my nose, and other people hadn't realised it either.
"I told myself, I needed to do something because no-one is aware of autism, and what about other schools, how are they coping, and how are people there treating children with autism?
"I've got to do something."
Victoria put together a powerpoint presentation which she gave at assembly to her year group at Fortrose, and then to other sets of youngsters.
She has now gone on to present her talk to ten Black Isle primary schools and her diary has filled up with many more invitations to speak at other organisations.
The impact has been far-reaching.
Victoria said: "Parents have said to me: 'you've no idea what you've done'.
"One told me her autistic child had been getting bullied and after my assembly, the bullies went to him and apologised. Now he feels proud of his autism."
The bullying also stopped for Victoria after she gave her first assembly.
She said: "They never spoke to me again. Their heads were bowed in shame."
She said her classmates now support and help her when she is experiencing difficulties such as sensory overload or a panic attack.
"I've made more friends and people are a lot nicer to me now that they know," she said.
Victoria has made such in impact at the assemblies that other children have accepted they are autistic.
She added: "I found out that all the head teachers have been talking to each other about me and some have emailed my head teacher asking for me to come to their school.
"I think my work has spread further than the Black Isle."
Victoria has raised more than £800 for the National Autistic Society, and was a secondary school finalist in Highland Heroes.