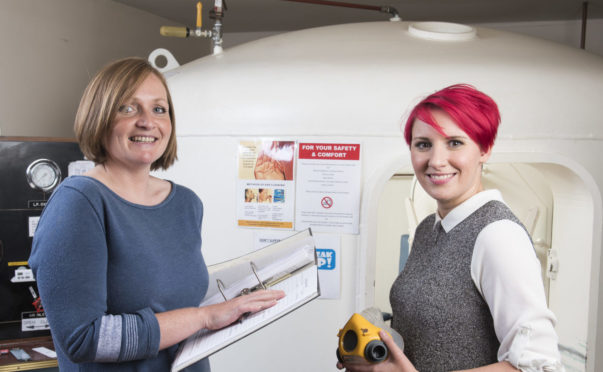 A Highland charity that uses oxygen therapy to treat people with a variety of conditions has re-opened, with most users saying their conditions have deteriorated during lockdown.
The Oxygen Works, which has the only oxygen chamber in the central Highlands, has more than 500 members across the region and as far afield as Aberdeen, Orkney and the Outer Hebrides.
The Inverness centre helps with conditions such as multiple sclerosis, cancer, Parkinson's and diabetes.
A survey showed almost 83% of members saw their symptoms worsen when the centre closed in March, with 37% saying the deterioration was severe to very severe and 39% saying it was moderate.
This included increased pain and fatigue and a significant impact on mood and mental health and the use of medication and/or walking aids.
Initially, sessions in the oxygen chamber will be limited to one person, rather than the usual five, although it is hoped this will increase. Some other therapies, including physiotherapy, massage and reflexology have had to be postponed.
However, government funding has helped buy three mobile oxygen concentrators which can be used at the centre or sent to users to use remotely. New laptops will also allow physiotherapy, yoga and Pilates therapies to go online.
The charity's CEO Leigh-Ann Little said: "We've worked really hard to stabilise the business and managed to secure funding which has set us up, not only to re-open, but hopefully accelerate the evolution and diversification of services which will help in a Covid world.
"We are celebrating the fact that we are reopening, but there is a lot of uncertainty still ahead and we are not out of the woods. We have never needed the support of the public more."
She said the loss of a place to meet had left members frightened: "What has affected people most is not having social interaction and not having anyone to share those fears with."
Regular user Ailsa Thomson, 40, from Conon Bridge, who has MS, said: "It's such a relief it's opened again. I was in every week before it closed. The oxygen really makes a difference with my cognition and focus and just general fatigue. When I didn't have it for so long I noticed the difference and so did my husband.
"I've also missed the feeling of community. You miss other people understanding what you're going through."