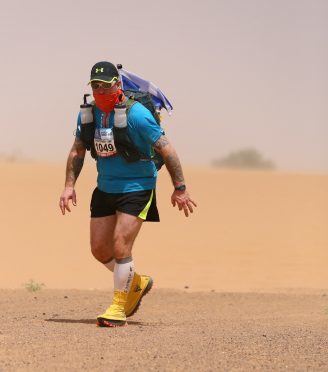 A Highland man has raised thousands of pounds for charity by running through the Sahara desert in searing 45C temperatures in "the toughest foot race in the world".
Chris Mackinnon, from Glenferness, arrived back in the country this week after completing the gruelling 156-mile Marathon des Sables.
The 43-year-old raised more than £5,400 for Highland Hospice by running the six stage race in Morocco.
Carrying a 22lbs rucksack throughout, he completed six marathons over consecutive days, including a double marathon on stage four.
He told the Press and Journal yesterday he had only recently began running seriously.
Mr Mackinnon said: "I have been running for about 18 months. When I started running, about six months in I was doing quite well and I saw this race in a magazine, one of the toughest foot races in the world, and I thought I'd give it a go.
"I do Highland Cross every year but I'd never really taken running seriously. But I had a whole year to prepare and locked myself away to get ready.
"You are running just under a marathon a day for the first three days at the Marathon des Sables, then stage four and five is a double marathon, 53 miles in a single stage and you've got 35 hours to do it.
"It was pretty tough, but I expected it to be tough. I did a lot of research into it.
"Obviously the heat is a big factor, coming from Glenferness you're not used to 45C degree weather.
"You're washing out of a 1.5 litre bottle of water and you're carrying all your food and all your survival equipment."
Started in 1986 by Patrick Bauer, the race is now in its 28th consecutive year and has been described as the toughest footrace on earth.
The rules require runners to be self-sufficient, to carry on your back everything except water that you need to survive.
Mr Mackinnon said he originally set-out on the journey as a personal challenge, but later decided the run would be a good way to raise money for the hospice.
"Originally I wasn't going to go down the charity route. I raise money doing the Highland Cross for the last six years, however as time moved on I thought it would be a good way to make money for a good cause," he said.
A spokeswoman for the hospice said: "He is an incredible man and we are really grateful for his support."
On Monday, Mr Mackinnon is due to run the Belfast marathon, but would not rule out a return to the Sahara.
"I wouldn't go back right now, however now I've done it I would know how to prepare better. I've done it once and I would do it again," he said.