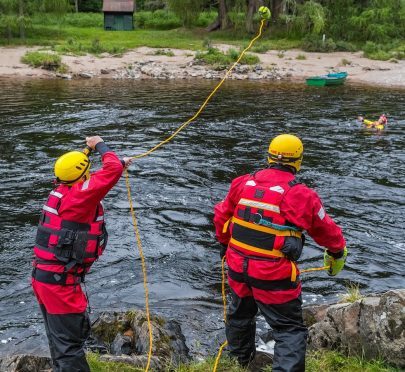 Emergency services have staged intense river rescue training sessions, following the death of an angler on the Spey.
It is understood that a man became tangled in his lines in fast-flowing water near Fochabers and died after being airlifted to Aberdeen Royal Infirmary.
Locals believe the victim was a tourist, but police refused to reveal any details on his nationality or age.
In an effort to cut down on further tragedies along the expanse, emergency crews gathered on the banks of the river to enhance their lifesaving skills.
The "river rescue" units from both the fire and coastguard services led the rigorous session at a spot near Knockando.
They were joined by first-aid responders from the Sandpiper Wildcat Project, which included staff from Elgin's Dr Gray's Hospital.
Emergency workers took the roles of casualties being swept into the river as their colleagues launched authentic missions to quickly retrieve them from the water.
Firefighters threw out lifelines to participants floating down a stretch of the river at Tamdhu.
Training was also carried out on rescuing unconscious people from the banks and from an island in the Spey using rope systems.
Resuscitation demonstrations were subsequently carried out on the "casualties".
Senior coastal operations officer for Moray, Colin Wood, said: "We know that training matters, and that what we do saves lives.
"It's good to train with other organisations as the more we understand what they do, the better we will work together and, ultimately, that helps the people we are working to rescue."
The Spey is the ninth-longest river in the UK, and is a favourite among salmon fishermen.
The man fell into the water near Fochabers at around 10am on Monday, June 12.
Director of the Spey Fishery Board, Roger Knight, referred to the incident as a "very sad tragedy".
He stressed safety was one of the board's top priorities, and all anglers are being encouraged to wear life jackets.
Fochabers Lhanbryde councillor, Marc Macrae, added: "Folk should always be mindful of how powerful the current in the Spey can be.
"It can look calm on the surface, but underneath there are whirlpools which can drag people underwater."
A police spokeswoman said: "There are no suspicious circumstances and a report has been submitted to the procurator fiscal."