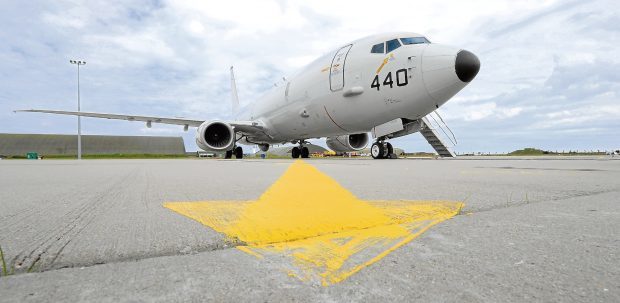 The £100 million plan to get RAF Lossiemouth ready for the arrival of a fleet of Poseiden spy planes has got off the ground as the search begins for candidates to fill the first vacancy.
A major recruitment drive will eventually lead to the creation of 100 new jobs by US aircraft giant Boeing.
And the company has started to seek applicants who want to play a key part in the transformation of the air base.
The US aircraft giant is advertising for an integrated master scheduler – an important appointment as the air base prepares to take delivery of the first of the aircraft in 2020.
Duties for the chosen individual, who will start work straight away, include keeping track of progress being made on major projects and to ensure that timed targets are met.
Concerted work to prepare the base for the £3 billion fleet of nine Poseidon maritime patrol aircraft will start in April next year
Moray MP Douglas Ross said that the first job being advertised signalled the beginning of major changes which would be beneficial to the area.
He said: "The significant investment by Boeing and the UK government at Lossiemouth will have a massively positive impact on Moray and the local community.
"I know people across Moray will welcome the additional jobs being provided, and the individuals and families coming to the area."
Lossiemouth Councillor John Cowe added that the milestone represented the beginning of an upturn in fortunes for the base.
He said: "It's the first step in a massive project – probably the biggest project ever to materialise in Moray.
"It's the start of a new chapter for RAF Lossiemouth – it has had its lows and now it is having its highs."
The UK Government is investing £3billion in the Poseidon fleet, which has been hailed as a way of plugging the defence gap created when the Nimrod programme was abandoned.
The planes will be operated by the newly resurrected 120 Squadron, which has a proud history with the RAF, as its most successful outfit during World War II.
US Navy spy planes will also routinely be based at Lossiemouth.
It is expected that the population of Moray could increase by over 2,000 people over the next decade as result of the defence project – with a total of 470 jobs to be created at the site.