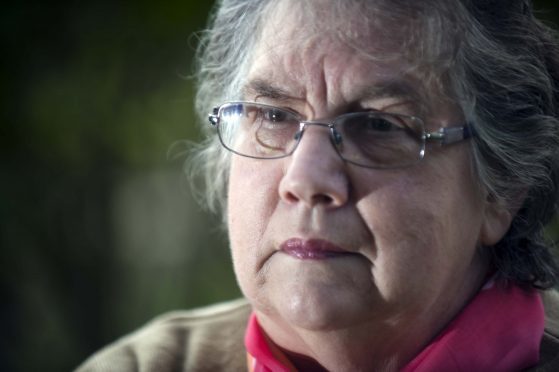 A former nurse fears her cancer may spread even further while a gruelling operation that could cure her of the disease is repeatedly postponed due to staff shortages.
Elizabeth McDonald spent her entire working life with the NHS in Keith, where she lives, and Dufftown in a career spanning more than 40 years.
Now the 71-year-old faces a "living nightmare" while she waits to have a lump removed from her neck, which has swelled from the size of a pea to a golf ball in three months.
Mrs McDonald was initially told she would have the operation in Aberdeen on November 7 but she has been told the latest estimate is "hopefully before Christmas".
The former health worker stressed the care she has received while undergoing tests has been "exemplary"- but has been told a shortage of nursing staff to support surgeons in the 12-hour procedure is to blame for the delay.
Yesterday, NHS Grampian stressed extra planning is required for "specialised procedures" with staff being given extra training to cut the backlog.
Mrs McDonald admits she dreaded the invasive surgery when it was proposed, but now fears the consequences of the delay even more.
She said: "At the beginning, this was supposed to have been a cure. With all this sitting about waiting for nurses, I don't know what to think now.
"It's already spread from my jaw to my neck. The next thing is that it'll spread through my whole body through the lymphatic system. It's already very painful.
"Cancer doesn't wait for anyone. I'm not frustrated with the care I've received so far, it's the fact they don't have the staff to do what they need to do."
Mrs McDonald was initially referred Aberdeen Royal Infirmary in September after visiting her doctor about the suspicious lump the month before.
She has since underwent several scans to diagnose the disease and is due to have an operation to replace part of her jaw with bone from one of her legs.
Her son Ewen said: "My mother spent her whole working life with the NHS helping others.
"Now, when she needs help, the very organisation she was proud to support is poorly resourced and organised and is unable to respond in a timely manner. I'm sure the clinical staff would like to."
Moray MP Douglas Ross, who lodged a formal complaint for the family after they contacted him, has urged the NHS to proceed with treatment "without further delay".
He said: "It's extremely concerning when such urgent treatment is requirement, and theatres and surgeons are available, but procedures can't be performed due to a lack of nurses.
"The NHS and the Scottish Government must ensure we have enough staff to guarantee these operations can be carried out as quickly as possible.
"Given Mrs McDonald dedicated her working like to the NHS, surely being seen in an acceptable time scale is the least that can be expected."
A spokeswoman for NHS Grampian stressed she could not comment on individual cases.
She added: "Speaking in general terms, specialised procedures require more planning and preparation and it can be challenging to replace staff working in these areas when they leave.
"It is also vital we have the right care in place to look after patients safely before and after their operations.
"Some of the things we are doing now will make a difference in the short term, including training other staff to develop their skills and we continue to advertise vacancies.
"Urgent cases are always seen as a priority and in line with the surgical urgency classification system."