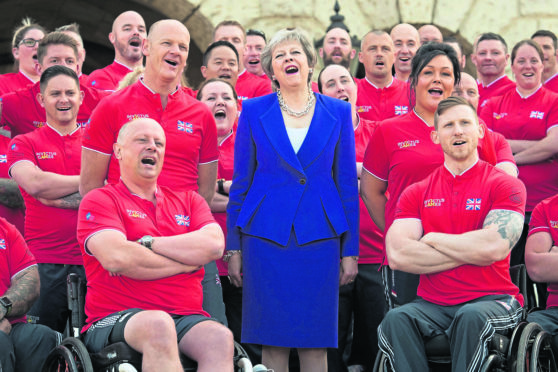 A team of 72 wounded, injured and sick military personnel will represent the UK in Prince Harry's Invictus Games in Australia.
The games were created by Prince Harry, a former soldier in the British Army, and are specifically for people who have been injured while serving in the armed forces.
Prime Minister Theresa May and Defence Secretary Gavin Williamson met with the team at a sunny Horse Guards Parade, posing for photos and talking to the athletes ahead of the event which will take place in October in Sydney.
"This is huge. It is something I never expected. I got goose bumps from head to toe," said team captain Mark Perkins, a former Royal Signals Corporal, from Bude, Cornwall, who now lives in Cardiff.
"To be representing those brave men and women is very humbling and an absolute honour."
Mr Perkins was in Kenya when he was crushed by a vehicle in 2000 in an incident which killed two others. He has had multiple hip operations and had to learn how to walk again. In Sydney, he will compete in the rowing and cycling.
"The message is getting out there, which is fantastic because people are watching the games and thinking 'I can challenge myself' and they can get to that start line," he said.
Senior Aircraftsman Michael Mellon is also looking forward to taking part in the wheelchair basketball, wheelchair rugby and sitting volleyball matches.
The Aberdeen-born veteran, who lived at RAF Lossiemouth and RAF Kinloss while his father was stationed there, was medically dicharged from the RAF in 2005.
The 38-year-old, who now lives in Fife, broke his fibula and tib while playing rugby four years prior, which resulted in compartment sydnrome in his lower left leg – ultimately leading to him making the decision to have it amputated.
Mr Mellon, a father-of-three, said: "After becoming medically discharged I thought my life was over. Every day I just wished I was still in the RAF and with my friends.
"But I love being with the lads again – I feel like I'm accepted when I'm around them. And my eyes have been opened on how people in similar conditions have coped and progressed with their lives; how they cope with pain or feeling down.
"Being more active is a great feeling and takes my mind off the pain."
Mark Ormrod, a former Royal Marine from Plymouth, was on a routine foot patrol in Afghanistan when he stood on and detonated an Improvised Explosive Device. He lost both his legs and one arm in the incident, which took place on Christmas Eve in 2007.
He will be competing in his second Invictus Games, in the swimming and rowing, as well as taking on discus and shot put.
Last year, he won four medals and received an Exceptional Performance Award.
"Last year was my 10-year anniversary of being injured and I thought a nice way to round that off was to do something I hadn't done before which was sport.
"I jumped in the deep end with the Invictus calendar and was lucky enough to be selected for the team and that's when the bug bit me and I understood how powerful and addictive sport can be and that's why I'm back again this year," said the father-of-three.
Some 451 hopefuls applied to be a part of the UK team, in a range of sports including powerlifting, swimming and wheelchair archery.
Harry and Meghan Markle attended the team trials last month, in one of their last joint appearances before the Royal Wedding.
The first games took place in 2014, in London, and since then, have travelled to Orlando, Toronto and now Sydney.
Over 500 Competitors from 18 nations will take part in 11 adaptive sports in the games, which run from October 20-27.
"We are 72 people whose life didn't go to plan," said team vice captain Michelle Turner, a former sergeant from Wigan.
Ms Turner served in the RAF for 20 years, but a virus she contracted resulted in a heart condition which left her in hospital.
"We are just trying to be the best we can be. That might not be like before, but they teach us you can do anything you want."