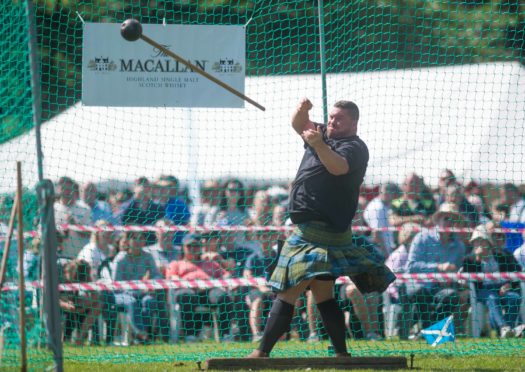 A near 5,000-strong crowd packed the Aberlour Strathspey Highland Games as locals and tourists combined for a weekend of tradition and entertainment.
For the first time, the celebrations were spread over two days with the return of the It's a Knockout challenge.
The event was previously run by locals during the run-up to the games, but had fallen into abeyance in recent years until organisers brought it back this year on Friday evening.
Around 4,600 people then packed Alice Littler Park in Aberlour on Saturday for the main events as the large crowd enjoyed music, dancing and sports.
A boisterous atmosphere on the banks of the River Spey, which included tourists from as far away as Australia, China and Japan, cheered on the competitors as they battled against each other in the arena.
George Evans, from Inverness, broke the games record in a keenly-contested 56lb weight over the bar event, which had stood since 2009, with a throw of 15ft 3in.
Sinclair Patience, also from Inverness, was the other record breaker on the day with an incredible throw of 75ft 7in in the 28lb for distance competition – beating the previous best by six inches.
International visitors then got the chance to take centre stage themselves by taking part in the annual haggis hurling competition.
The popular event was more than double over subscribed as 106 people took turns to see how far they could throw Scotland's national dish – with top honours eventually shared by visitors from Canada and France.
Games secretary Brian Cameron believes the mix of people coming through the gate helps ensure its success.
He said: "Aberlour is one of the small, almost community games. Over the years we've tried various approaches to sustainability with music and other things to make it financially viable because it gets more difficult to run these events every year.
"The community spirit is what helps to really make it. There was a fantastic atmosphere for some of the heavies' events, everyone really got into the support, which means people leave with a feeling of being part of something not just with a memory of it.
"I think that helps to bring people back every year, whether they're people returning home or visiting from abroad."