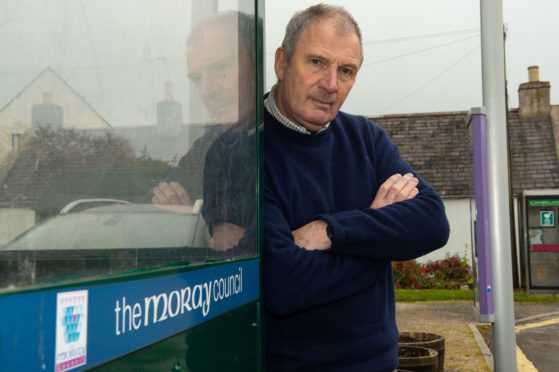 A Speyside villager has called on a transport giant to restore a route or move out completely after continuing to use the narrow streets to practise.
Stagecoach pulled timetables to Kingston and Garmouth more than three years ago – blaming low usage causing the service to operate at a loss.
However, despite insisting it has no plans to restore buses to the rural communities, large coaches continue to manoeuvre down the narrow twisty streets in the area.
The bus firm has explained that Garmouth offer ideal training scenarios for drivers preparing to run routes in small communities.
Now calls have been made for Stagecoach to use the opportunity to pick up passengers as well or move out to train in villages that continue to be served by the operator.
Retired helicopter engineer Alan Clarke, who lives in Garmouth, said: "When the service was axed I wrote to Stagecoach to see if they could re-route some of the other timetables here but they just said it couldn't be possible.
"If they're not interested in providing a service here then they should go somewhere else where they still run buses – maybe Findochty, Portknockie or places like that.
"Seeing the big coaches come down here and squeezing between the cars just feels like a contemptuous slap in the face."
Stagecoach's withdrawal from Kingston and Garmouth came just days after the final shop in the villages closed its doors.
Moray Council has since stepped in to fill the void with a bus service to support local residents with four trips to Elgin and five return journeys available between Monday and Friday.
A Stagecoach spokeswoman explained that Garmouth has been selected as a training route due to its streets and its convenient location.
She said: "I can confirm our training routes do include one in Garmouth. As Garmouth is located only eight miles from our training school in Elgin it is ideally suited to replicate the driving required in similar small villages in Moray.
"The towns you suggest, Portknockie and Findochty, are more than 20 miles from Elgin."