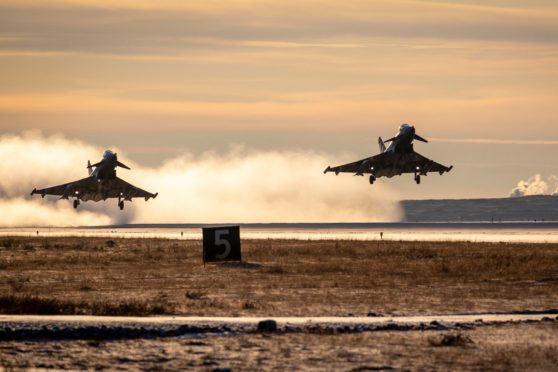 Typhoon jets sent from the north-east to protect Iceland from intruders have returned after completing their assignment.
Four of the aircraft from RAF Lossiemouth were deployed to the country as part of a Nato mission to guard the airspace of allies from enemies.
During the month near the Arctic Circle the crews were on 24-hour alert to scramble towards unidentified aircraft while also flying 59 training missions and performing more than 180 practice intercepts.
RAF Typhoon jets & personnel have returned from Iceland as we complete our first @NATO Air Policing mission in the country.

The jets were on 24-hour stand-by, flying 59 training sorties & more than 180 practice intercepts.#WeAreNATO @RAFLossiemouth

? https://t.co/QVoqjAR9Fk pic.twitter.com/xJaCNnJ2mw

— Royal Air Force (@RoyalAirForce) December 11, 2019
More than 100 personnel from the UK took part in the operation, which was the first time British aircraft have been based in the country since the Second World War.
Wing Commander Mark Baker said: "We've achieved the mission, first and foremost, ensuring the integrity of Nato airspace. I think we've also developed some excellent relationships with the people of Iceland.
"It's been a challenging deployment for us into a colder environment and climate than the weather conditions we're used to back home.
A last-minute Icelandic equaliser & penalty shootout saw the Icelandic Coast Guard regain a trophy lost to the RAF 75 years ago.

The rematch marked the end of the RAF's @NATO Air Policing mission where 1(F) Sqn had been on standby if any unidentified aircraft flew near Iceland. pic.twitter.com/eOcaUpzjHV

— Royal Air Force (@RoyalAirForce) December 11, 2019
"From an engineering perspective, that has meant certain equipment has been challenging to operate and flying has been different as well.
"Before we came here, we were told we were coming to the land of fire and ice, and we've certainly experienced a lot of ice.
"We've also had an amazingly warm welcome from the people of Iceland and we are very much looking forward to coming back in the future."