Since her childhood in Lossiemouth, Holly Lazenby has had a strong passion for the creative arts.
Back in January, she returned to Moray with her daughter after being away from home for years.
And now, she has taken the plunge to set up The Lazy Bean.
The online e-commerce shop sells creative work by independent entrepreneurs including art and books.
The 27-year-old recognises it is a "scary" time to set up a new business.
However she is determined to ensure it is a success.
Holly said: "Since I was quite young, I have had a passion for writing.
"Over the years, I have written songs and books.
"The creative arts has played an important part of my life."
How did the idea for The Lazy Bean come about?
She explained: "The Lazy Bean came about as I was working on some children's books.
"Then it sparked the idea of creating a store to host a bunch of artists and creative entrepreneurs.
"I wanted to find something I'm passionate about.
"I want to promote artists and creative who are unknown as there is so much talent out there.
"The business model is we sell their work on a markup giving the creative what they charged for it and we keep the profit.
"It is scary setting up a new business in the current climate, however I'm determined to be successful."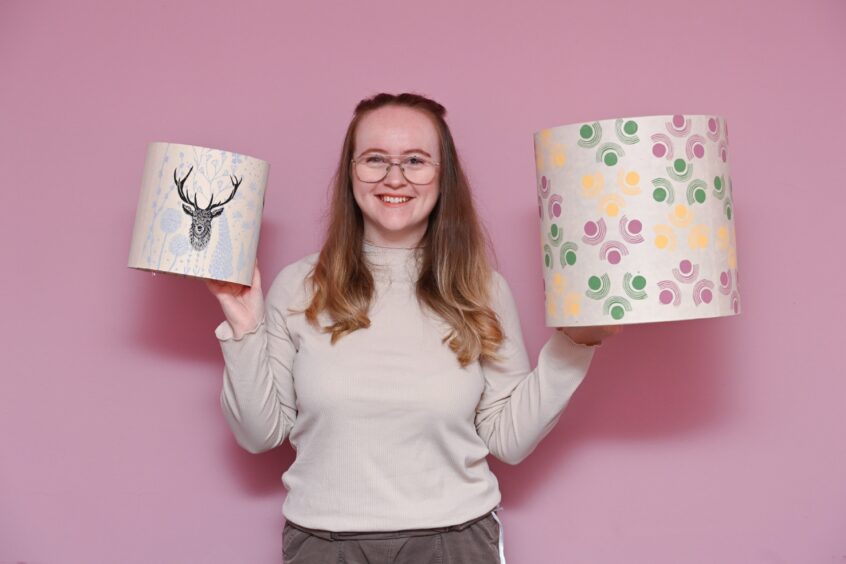 The flexibility of having her own business also helps her work around childcare.
She has been encouraged by responses from people in Moray.
Holly said: "The response has been positive to the online store.
"I am taking baby steps with the business.
"Online shops can sometimes scare some people as they want something on the High Street to walk into.
"I have been happy with positive responses and there might be a physical store one day."
What are her future ambitions?
She hopes to open a physical shop in the Elgin town centre at some point.
But for now, she is focused on making this online store a hit.
She said: "The main goal remains to open up an actual physical shop in the Elgin High Street.
"I want to have a little coffee bar inside it and host events like art classes too so it is a space for people to interact.
"I need to get a bit of money behind me first, however it is my long-term ambition."
Business Gateway Moray has helped her in the process of setting up the business.
Are you going be setting up a new business in Elgin or somewhere else in Moray? Get in touch by emailing sean.mcangus@pressandjournal.co.uk or calling 07813 400566.