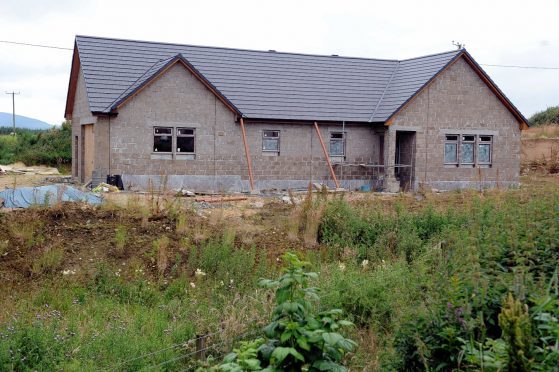 Thieves have raided thousands of pounds worth of machinery and equipment – including a 10ft scaffolding tower – from a rural Moray property.
The brazen gang struck in the Crannoch area of Deskford, eight miles east of Keith, at a house currently under construction.
They took about £5,000 worth of machinery – including a large power generator, an industrial pressure washer and a tripod with a winch.
And they managed to bundle a huge scaffolding tower into their getaway vehicle before fleeing the scene.
Yesterday, police issued an appeal for information on those who carried out the heist.
Constable David Baird asked people who had been offered suspect machinery to get in touch.
He said: "We are urging anyone with information regarding this theft to come forward.
"I would also appeal to anyone who has been offered industrial plant equipment, and who thinks it may be related to this theft, to contact the police."
Officers believe the crime occurred overnight between 3.30pm on Saturday, July 23, and 7.30am on Wednesday, July 27.
The owners of the affected property have erected a tall fence, fastened with padlocks, at its entrance.
A concerned neighbour said the thieves had attempted to break into the shed and garage of his property – which is also in the process of being built.
His shed door was forced open, and large wooden panels covering the front of his garage have been damaged.
The man, who did not wish to be named, added: "They must have had a big van to get away with the stuff that they did.
"Thankfully, I didn't have anything for them to take – so they seem to have only come to my property for a look."
Last night, Keith and Cullen councillor Ron Shepherd said the "shocking" incident was out of the ordinary for the quiet countryside community.
Mr Shepherd said: "It's quite a scary thought that something like that could happen in an area like Deskford.
"Hopefully people will have noticed something unusual going on, and will come forward to the police."
Anyone with information about the theft should call 101 or Crimestoppers on 0800 555111.