Chaos on roads as gale force winds hit north and north-east Scotland
By
James Wyllie
January 8, 2019, 7:01 am
Updated: January 8, 2019, 7:48 am
High winds are expected today, with huge waves predicted for some coastal areas.
After a day of storms, however, forecasters believe most parts of the country should see a gradual improvement in the weather.
It is expected to remain blustery and wet for a little while longer, but the conditions are expected to begin easing off later today.
Met Office meteorologist Martin Bowles said: "It will still be fairly windy and there will be a few showers around, but they won't be particularly heavy or frequent.
---
>> Keep up to date with the latest news with The P&J newsletter
---
"The strongest winds will be on the east coast and the further west you go, the quieter it will be.
"When you haven't got the showers, it will actually be a little bit brighter than it was yesterday, but cooler."
He did warn, however, that people living near the coast may need to take extra precautions today.
"Because we have this strong wind, and also a high spring tide, there will be some very big waves on the east coast.
"So you could actually get a little bit of over-topping over sea defences in a few spots."
The Met Office expects the mercury to rise quite dramatically towards the end of the week, with a possible high of 10C on the horizon.
Mr Bowles said: "Tomorrow looks to be mainly dry and fairly bright, but with relatively cold temperatures and a maximum of 5C.
"On Thursday and Friday we are expecting it to get a bit more cloudy, so it will be mainly dry but with a few drops of light rain and drizzle over the Cairngorms.
"Temperatures will start to rise a little by that time, so figures for Aberdeen will go up to about 10C on Thursday and  8C on Friday."
North-east
Emergency services were called to the scene on Leggart Terrace in Aberdeen where a tree had fallen on an car. Someone was the car at the time of the incident but they were not hurt.
Elsewhere a large tree had blocked South Deeside Road in the city, but this was later removed.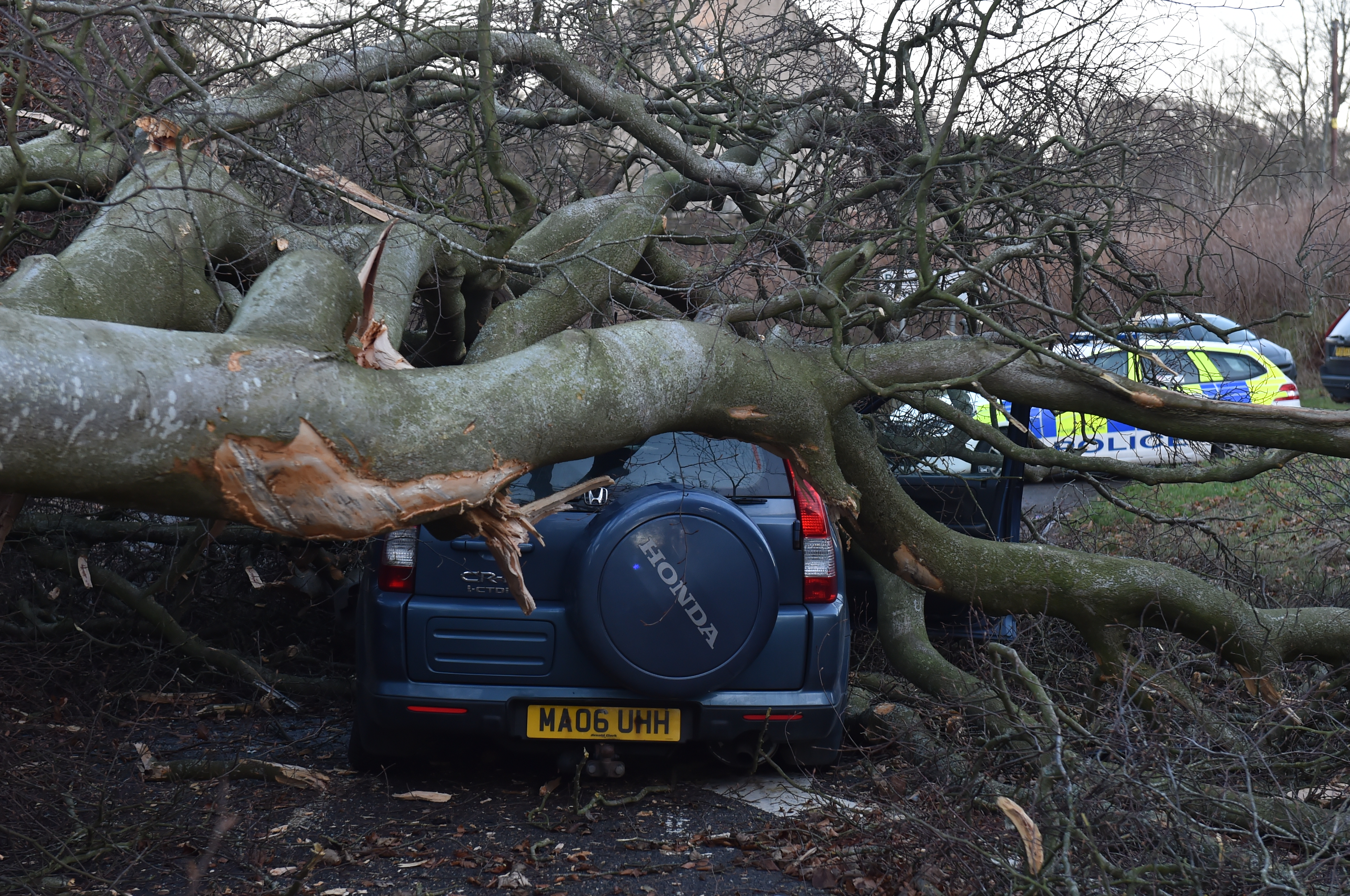 Meanwhile the Northlink Aberdeen to Lerwick service that was scheduled to depart at 7pm was cancelled due to the conditions.
Air traffic was also affected with several flights to and from Aberdeen grounded or diverted because of the high winds.
Highlands and Islands
Gale-force winds brought chaos to roads and services across the Highlands and Island yesterday.
Cairngorm Mountain recorded the highest wind speeds of the day, at about 115mph, as the Met Office issued a yellow weather warning for the entire north of the country.
Scores of homes across the region lost electricity as the wind played havoc with overhead cables.
Most of the powercuts were in more rural areas including Inchlaggan, Tain and near Thurso.
Motorists travelling across the region, meanwhile, were left battling through a series of obstacles following a string of accidents and road closures throughout the day.
Road bridges including Cromarty, Kessock and Skye were closed to high-sided vehicles, while police closed the Dornoch Bridge to all vehicles.
Motorists faced a 22-mile diversion via Bonar Bridge after a static caravan was blown from a nearby field onto the A9, slightly north of the crossing, around 2pm.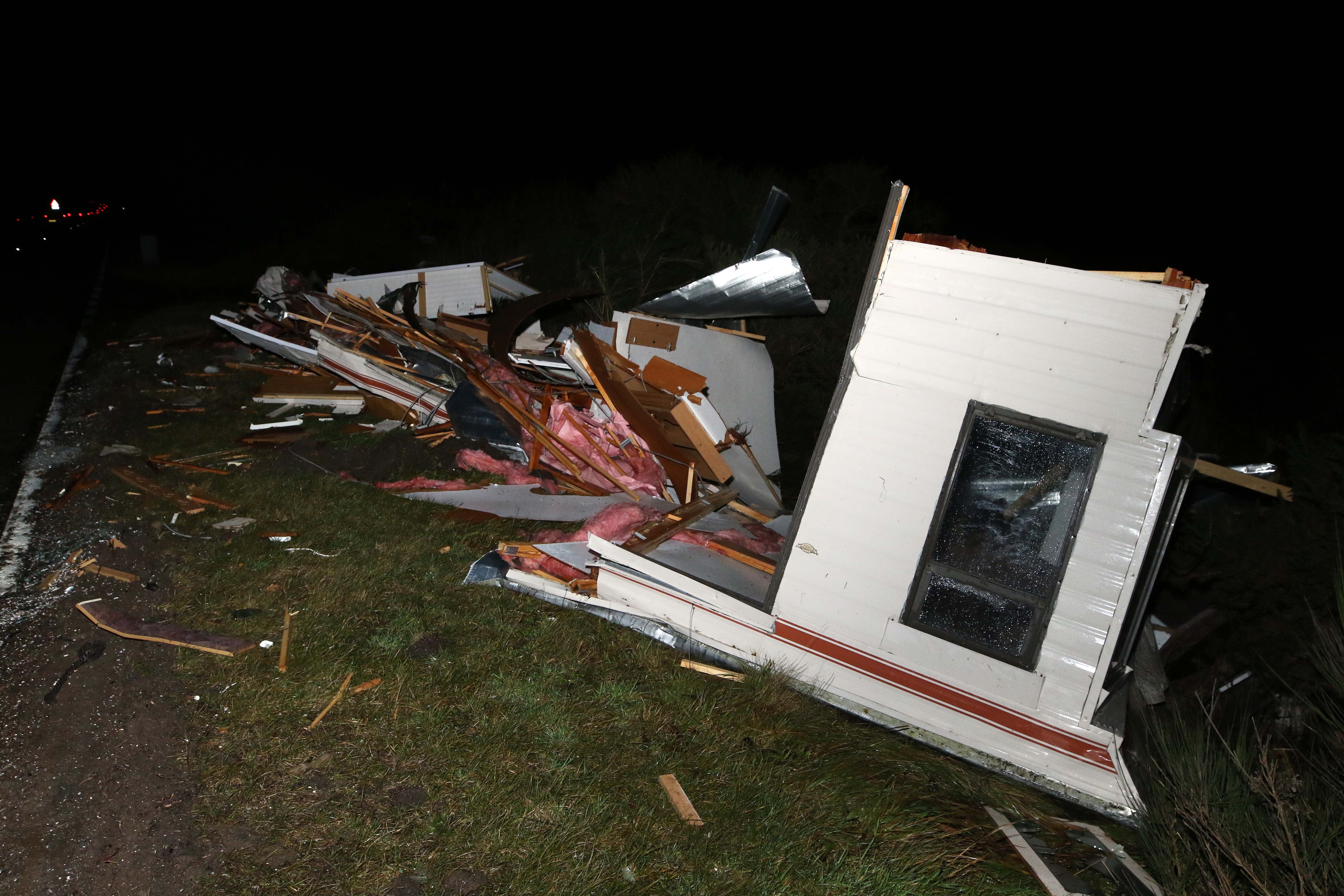 The tattered remnants of the motorhome were left strewn across the road.
Further north, a small furniture shop delivery van was blown from the A99 south of Wick and into a field, where it toppled onto its side.
A short time earlier, a lorry overturned on the treacherous Berriedale Braes.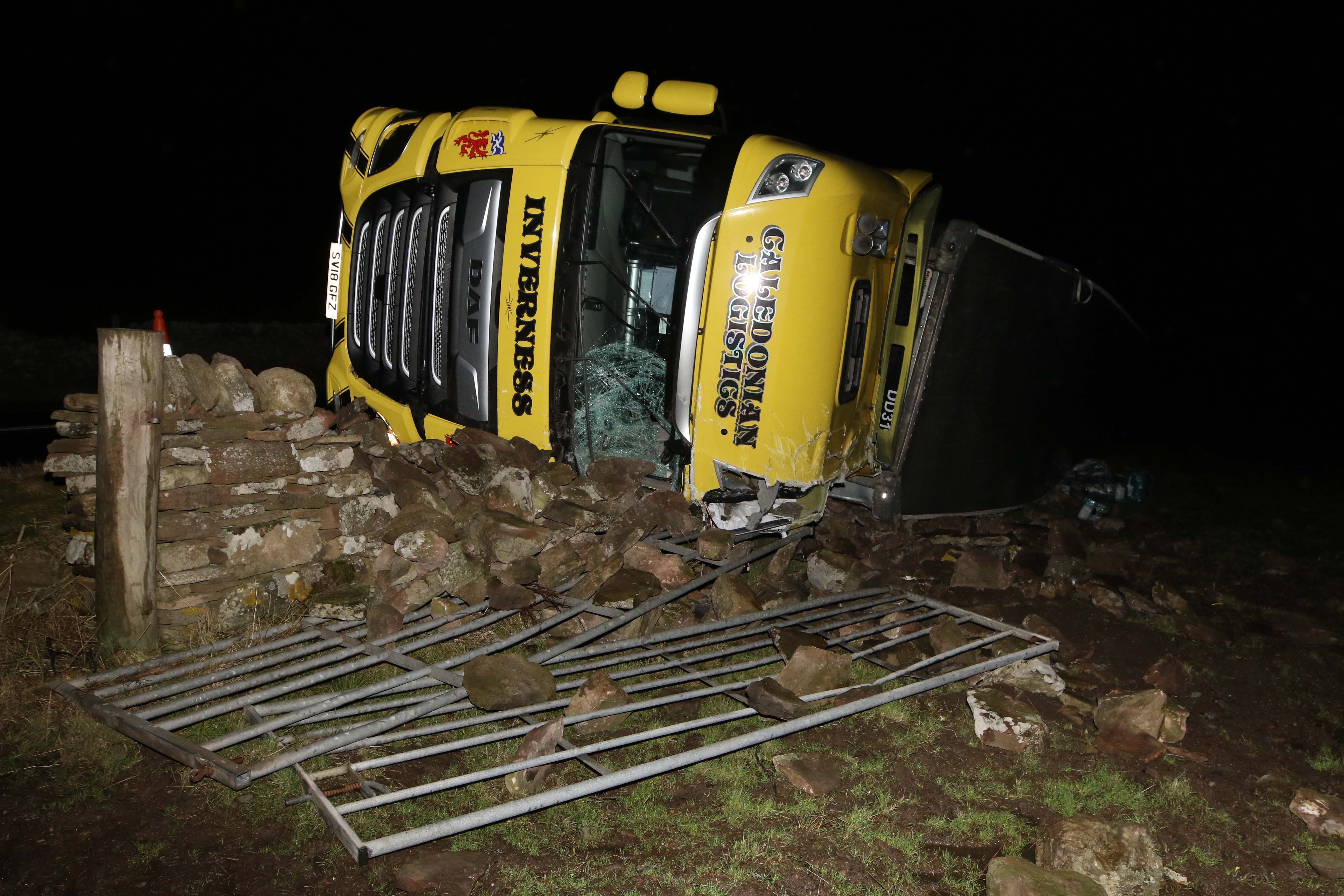 Fortunately no-one was injured in either incident.
With wind speeds of more than 74mph battering the Caithness region, firefighters from Thurso raced to Mount Pleasant Road after the roof of the McColl's convenience store was blown off.
The town's residents also had to contend with a snowstorm as debris from the beach swirled through the streets, reducing visibility.
At the nearby Dounreay nuclear complex, thousands of workers were sent home around 1pm as the site closed its doors for the day.
A spokeswoman said the closure was brought forward following fears for staff wellbeing.
She said: "The priority was to get personnel off the site.
"The safety of our personnel comes first and is paramount at all times."
Met office weather forecasts had suggested that winds at the site would peak at about 85mph at around 3pm.
Education was also affected, with four primary schools and five nurseries forced to close across the Highlands and more than 500 youngsters sent home.
Hundreds of commuters were left stranded after dozens of ferry and bus services were brought to a standstill.
Stagecoach suspended services in Orkney and Caithness for the duration of the day as a result of high winds, while seven Calmac services on the west coast came to a halt.
Services calling at ports in the Western Isles, Oban, Skye and Mallaig were all cancelled, sparking an appeal to motorists to leave ample time for their journeys.
A Calmac spokesman said: "As always at this time of year when adverse weather can be an issue, travellers should leave plenty time for their journey and keep check the status of their sailing before setting off."
Crossings leaving from the Pentland Firth were also cancelled yesterday, including several services from Lerwick.
The Scottish Environment Protection Agency issued flood alerts for Orkney and the Western Isles, with a warning remaining in place for the entire day for Churchill Barriers.
Police also issued a warning to motorists to be prepared for every eventuality.
Chief Inspector Stewart Mackie said: "We are advising all drivers to travel with extra caution and ensure you and your vehicle are adequately prepared for the conditions making sure you have sufficient fuel and supplies such as warm clothing, food and water in the event you are delayed for several hours.
"Charge your mobile phone and plan your route as well as alternative routes.
"If you are driving a vehicle that may be vulnerable to being blown over in such conditions along exposed routes including bridges, please exercise additional caution and plan your route to avoid exposed areas or consider cancelling your journey until conditions improve."