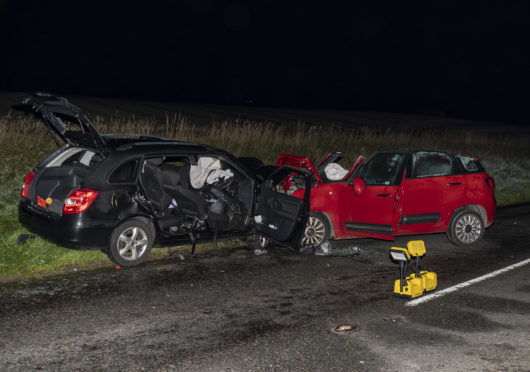 A man told yesterday how he rushed out his home to help casualties injured in a horror crash which left one person dead.
Gary Bartlett, 44, left his house with his 20-year-old son after hearing a loud bang coming from the road.
He arrived at the scene with Connor to find four people injured in the tragedy on Thursday night.
One of the casualties, a 67-year-old woman from the Peterhead area, who was a passenger in one of the vehicles, died in the crash.
The two vehicles involved, a black Skoda Fabia and a red Fiat 500, suffered extensive damage in the head-on collision on the A952 Mintlaw to Fraserburgh road.
Last night, Mr Bartlett said: "I didn't really see the crash happen as such, but I saw the immediate aftermath.
"I was in the kitchen getting a drink, looked down at the tap, heard a big crash and I looked up and saw it.
"I got straight onto the phone to ask for the police and ambulance."
Mr Bartlett said he checked to see if the woman driving the Fiat 500 needed help and his son went to the other vehicle.
He said: "He was in the back seat of the black car to check everyone over and look after them until the ambulance arrived.
"A nurse was travelling in one of the cars behind so she was seeing to the lady in the red car.
"After that he cleared debris off the road."
A 17-year-old woman, who was travelling in the same vehicle as the pensioner, and a 41-year-old woman driving a red Fiat 500 were both seriously injured and were taken to Aberdeen Royal Infirmary by ambulance.
The 65-year-old man driving the Skoda suffered minor injuries in the collision which happened at about 10pm.
Mr Bartlett said the emergency service workers arrived at the scene of the crash, which happened on the outskirts of Mintlaw, within minutes of the call.
Fire crews used hydraulic cutting equipment to free casualties from their cars.
He said: "After that we just helped out where we could by directing traffic."
Road policing sergeant Rob Warnock said: "My thoughts, and that of my officers, are very much with the family and friends of the 67-year-old woman who sadly died in this tragic collision.
"I would appeal to anyone who may have seen the crash or who may have seen either vehicle shortly beforehand and who hasn't yet spoken with police to do so as a matter of urgency to help us piece together exactly what happened."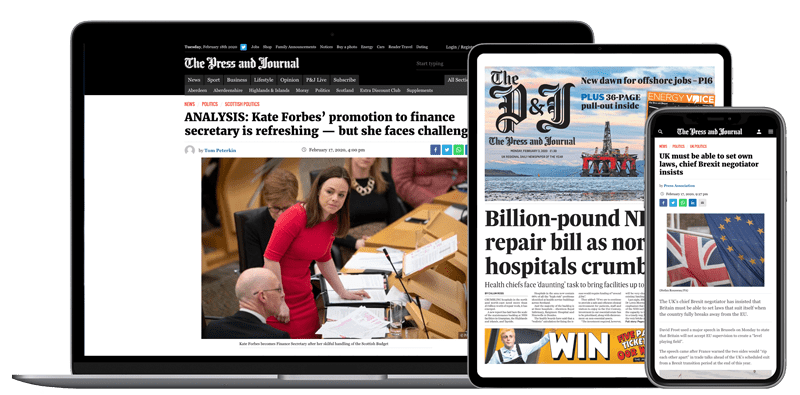 Help support quality local journalism … become a digital subscriber to The Press and Journal
For as little as £5.99 a month you can access all of our content, including Premium articles.
Subscribe