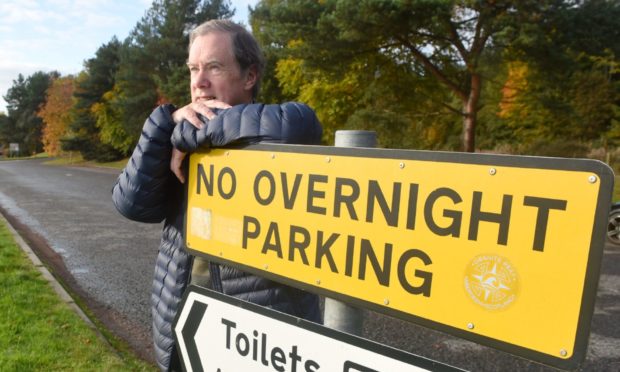 Highland Council's hopes of creating a continental-style overnight stop for motorhomes at a gateway to the north Highlands in time for next season have been dashed.
Council planners had put in a detailed application for up to 30 motorhome berths with supporting facilities on land adjoining the North Kessock car park on the northbound side of the A9, but the plans had to be abruptly withdrawn yesterday.
Transport Scotland (TS) is insisting on a full traffic survey at the site, having accepted one submitted earlier by the planning team.
TS said the original traffic survey was carried out during lockdown, and therefore was not representative of normal traffic in the area.
The transport agency said a new survey must take place 'after Covid'.
Black Isle councillor Gordon Adam said he was bitterly disappointed.
"TS is asking us to do a full traffic survey which is a major piece of work, and we can't do it until such time as there is no threat of Covid.
"The car park already has a lot of traffic from the Harry Gows café and HGVs, and they enter and leave the site with no problem.
"I can't see how 30 motorhome berths would make any difference, added to which Transport Scotland must know already how much traffic is on that road."
Mr Adam said the news came hard on the heels of agreement at the council's tourism committee to promote the idea of creating 'aires' across the region to help deal with pressure from motorhomes and other vehicles looking for somewhere to spend the night, get access to water and deal with waste.
Mr Adam said: "We know there have been 15,000 motorhome purchases this year in the UK.
"This is kicking into the long grass a really important project."
A Transport Scotland spokesman said: "We're working collaboratively with the Highland Council on the proposed change of use at this location.
"We've requested that council provides a wider dataset relating to traffic use at a layby they are responsible for, so that both organisations can consider any necessary steps to support the change of use and keep road users safe."
Meanwhile further up the same stretch of the A9, Black Isle communities are banding together to ask TS to act now on their concerns over the dangerous Munlochy junction, scene of a fatal accident last December.
The Black Isle Partnership (BIP) will shortly write to TS to support a proposal by councillor Adam to install a temporary extension to the 50mph speed limit on either side of the junction.
Jon Palmer, a director of BIP, said TS has carried out a 6 month consultation and produced a 50 page report with so far no action.
He said: "The more signatories we get, the more powerful our letter will be.
"I'm sure Transport Scotland has got some spare 50mph signs they could put up.
"It's about saving lives."
The TS spokesman said: "A study looking at the feasibility of road safety improvements on the A9 between North Kessock and Tore is currently being undertaken.
"Discussions with stakeholders and representatives from the community council are ongoing and we will be considering if there are any short term improvements, including any change in speed limit, that can be installed prior to the completion of the study."