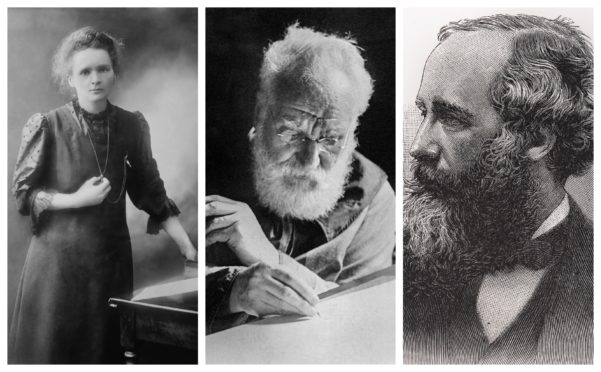 I've always admired inventors. As a child, whoever made those McCowan Toffee Bars and the penny chews we called Bumpers, and also the man who invented the steamroller which used to come and lay the road with tar, which would melt in the sun so that we could make bubbles and pop them so that our hands would get nice and black and sticky so that we could then wash them in the waterfall on the wee stream that ran down beside our house.
Later on, I admired greater inventors. Or maybe they were just discoverers? Alexander Fleming, of course, when I read about him in school, and Marie Curie and Alexander Graham Bell and James Clerk Maxwell, until it seemed that all the inventions and discoveries in the world were already made. And then along came The Beatles who invented long hair, and Celtic who invented local lads from Glasgow being champions, and my brother and I who invented the truth that we were Boy Scouts when we weren't so that we could join in the Bob-a-Job scheme in Oban and earn a shilling washing cars and cutting grass so that we could then go to the pictures, and not just have to sneak in at the end and only ever see the last 20 minutes of any film.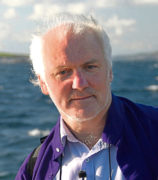 Maybe because of all that I became a writer. Or storyteller. As a child, our neighbour was Archie MacKay who used to be taken away by The Host (of the Dead) now and again. And next to him was Ewan Steele who had left Uist after the Great War and worked on the boats on the Great Lakes of Canada for 40 years or so. Whenever anyone said "Tha i fuar an-diugh, Eòghainn" ("It's cold today, Ewan"), he always responded "Chan eil i fuar an seo. 'S ann a tha i fuar air Na Lakes" ("It's not cold here. It's cold on The Lakes").
These weren't inventions, but they were made the greater by being told. I was surrounded by storytellers and slowly realised that they too were great discoverers and inventors. Robert E Peary may have explored the Arctic and Ferdinand Magellan may have been the first to circumnavigate the Earth, but so had the Gaelic son of the king of Tethertown and Conall CròBhuidhe and the Ceatharnach Caol Riabhach, who sailed the oceans and threw apples over their shoulders and – in the case of Daorghlas Chaoilte – ran faster than Usain Bolt.
I suppose the default belief is that great events and great inventions and discoveries always happen elsewhere, whereas the local is humdrum. Archie cycling down to the shop or Aggie in her wee car going off for the messages, while in faraway lands they're rocketing to the moon or discovering the cure for rabies.
Why go exploring in your own village when the glory is in discovering the craters on Mars? Until there was nothing left to discover, except what we had left undiscovered in our own backyard – the stories our neighbour has, the songs our mother sang.
Thing is, once we delve a bit deeper we find that our own backyards are full of mostly unsung creators and discoverers and inventors. Dr Elizabeth Latto Ewan of Fyvie (1875-1965), Aberdeen's first female GP and champion for healthcare rights for women of all classes.
Alexander Bain (1810-1877) of Watten, Caithness, inventor of the electric clock. Victoria Drummond (1894-1978) of Errol in Perthshire, the first woman marine engineer in the UK. Maria Gordon (1864-1939) of Monymusk, the eminent geologist, palaeontologist and politician.
And the list could go on, from the great Flora MacNeil of Barra to the remarkable fisherwoman and writer Christian Watt of Broadsea, Fraserburgh.
For it may be that our stories are our greatest discoveries and inventions. James Joyce inventing Leopold Bloom to walk through history on that singular day in Dublin. Somhairle MacGill-Eain (Sorley MacLean) bringing the cleared village of Hallaig in Raasay to life again in the poem of the same name.
Jessie Kesson bringing more life to Elgin and Inverness and Aberdeen than a thousand tourists have ever done. Chris Guthrie and Ewan Tavendale and Chae Strachan and Robert Colquhoun's voices filling the air in the Mearns more than any voices that ever actually lived there.
What a world there is to be discovered all around us! That little stream down the back of the house where my children sailed their ocean liners across the Atlantic. The tree at the bottom of the garden where they were Superwoman and Long John Silver. The moment you reach the top of the Pass of Kintail and see Skye and home stretched out before you. The machair that is filled with people long gone, the blank pages on which I write, populating them with their hopes and dreams and heartaches and failures, time after time.
We need discovers and inventors, not just so that we can have steam engines and vaccines, but so that we can continue to overcome. At the end of the day, it may be that our greatest discoveries and inventions are ourselves.
---
Angus Peter Campbell is an award-winning writer and actor from Uist.