After a storm comes a calm, as the saying goes.
The punishing weather brought by Storm Babet may have abated somewhat, but the lasting atmosphere across the north and north-east of Scotland is not one of calm. In this case, after a storm comes exhaustion, grief and fear.
Since extreme winds and incessant rain began to batter communities last week, with little to no reprieve for many days, heartbreaking stories of damage, loss and suffering have not stopped coming.
Devastatingly, three lives were lost in the north alone, and four more across the wider UK. A huge number of houses and businesses were flooded and precious possessions ruined or entirely destroyed. Many thousands of homes experienced power outages, and some were left without light, heat or electricity for extended periods.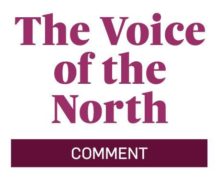 Flooding has done incomprehensible harm to roads, bridges and other landscapes; the rebuild and recovery will take a great deal of time and effort, if it is even possible in all locations.
Positive tales and silver linings are few and far between in this instance, so it must be said that the success of Stonehaven's multimillion pound flood defences was a welcome relief for locals as well as others watching and worrying from afar.
Still, the fact that Brechin's flood prevention measures failed while Stonehaven's held highlights that much more must now quickly be done to properly future-proof our cities, towns and villages against violent winter weather.
The clock is ticking
There is no question that Storm Babet's successor will soon arrive, likely in a matter of weeks or months rather than years, if the quick succession of 2021's Storm Arwen and 2022's Storms Malik and Corrie is anything to go by.
Members of the public, emergency service workers, local councils and the Scottish Government are all aware that the clock is ticking and every moment counts.
Humza Yousaf visited households in Brechin shortly after the worst of Babet had hit to give his sympathy and support in person. However, kind words and understanding cannot be all the first minister has to offer.
In the wake of Babet, an Aberdeen firefighter warned financial cuts would result in the service struggling to assist people in need during future periods of extreme weather. The ongoing cost-of-living crisis will likely leave many families toiling or unable to recover after flood damage. And, of course, the climate emergency has affected weather patterns and made brutal storms far more common.
Clearly, many of our current societal crises are inextricably linked, so our leaders and decision-makers must tackle them simultaneously. Only then will uncertainty subside and calm return.
---
The Voice of the North is The Press & Journal's editorial stance on what we think are the most important issues of the week