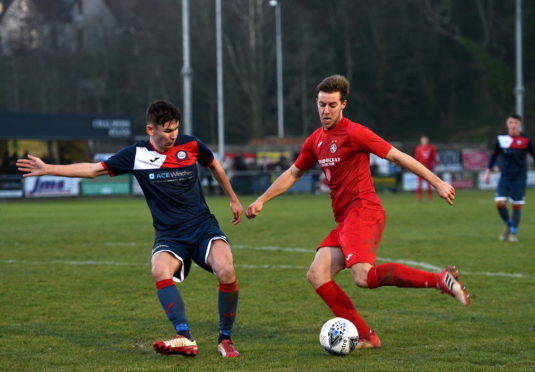 Committing his future to title-chasing Brora Rangers was a no-brainer for Martin Maclean.
Following on from Colin Williamson and Dale Gillespie, Maclean came the third Cattachs player to sign a two-year extension with the club.
He is one of Brora's longest-serving players, having signed in 2012 from Stornoway amateur side Back, and was part of the two Highland League title-winning sides of 2014 and 2015.
With Brora in pole position to claim their third crown this season, there was little chance of Maclean looking elsewhere and he was only too happy to sign on again at Dudgeon Park.
Maclean said: "I wasn't really looking to go anywhere else, it was just a case of getting it done. There were a few guys in the same boat so it's good to get everyone signed at the same time.
"This is my eighth season here and there's five or six guys that have been here roughly the same amount of time. In terms of continuity and bonding, that's hugely beneficial.
"I came over just before I turned 21. That was when Ben Mackay started putting investment in; there's been a big change in league position and it's great to be part of that. We went from third-bottom to being champions.
"It's been quite a few years since we've won the league. We've been in second or third and in one season, dropped down to sixth. This season has gone well so far – the aim is to get it over the line.
"We've not had many cancellations, so we've been able to get points on the board. With teams having games in hand the table can be a bit false but it's better to have points on the board and not having to play catch-up.
"We've had two defeats and they were two games we feel like we didn't play anywhere near where we should, which is disappointing. Those defeats gave us a good kick up the backside."
Brora, who are at home to Keith today, were the first Highland League side to compete in the SPFL play-offs, beating Edinburgh City on penalties in 2015 with Maclean scoring in the first leg. They were eventually beaten 3-2 on aggregate by Montrose in the play-off final.
Questions lingered over whether Brora wanted to go up that year, with then-chairman John Young stating 75 per cent of Highland League clubs would have concerns about taking promotion. This season, however, Brora have been unequivocal in their desire to get into the SPFL.
Maclean added: "I think we are slightly younger and have a bigger squad. When we were going into the play-offs then, we were down to the bare bones and did quite well considering the injuries we had. We are a bit better equipped this time around.
"Cove did it last season but if a team like Brora, a team from a small village in the north of Scotland, did it, it would be pretty special. It would mean a lot to people who have been in the club for years, when the team was at the bottom of the table. We just need to keep doing what we're doing until the end of the season and getting the three points."