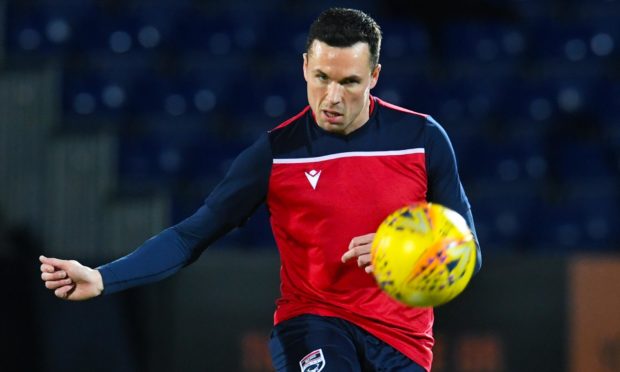 Ross County midfielder Don Cowie hopes the Staggies' keepy-up challenge can encourage supporters to remain active during the coronavirus lockdown.
Cowie is spearheading an online challenge, initially set by co-manager Steven Ferguson, for Staggies players to complete 70 keepy-ups in their garden during the current period of confinement.
For each player to complete the challenge, Cowie has pledged to donate £50 to NHS staff working during the rise of Covid-19.
While the public have been instructed only to leave home for essential supplies or exercise, Cowie insists people can still make the most of their restricted surroundings.
The 37-year-old said: "It's a bit of a freak situation. It's one we have never experienced, and hopefully we never will again.
"It's testing times for us all but it's about how we deal with it – and not many of us know how.
"We are all cooped up in our houses and gardens, so all it takes is having a football and yourself.
"It's a great way of people getting out – firstly for our older generation just for a bit of fun, but also for kids to enjoy being in control of a ball.
"If it means having a wee bit of a laugh, but at the same time abiding by the rules that are going on right now, it just shows it doesn't stop you going out into your garden to get some fresh air and staying active.
"That's the main thing we are trying to put across."
👏 What an incredible gesture by Don Cowie at the end of this video!

Boys the ball is firmly in your court @marcusfraser75 @LiamFontaine @rdraper08 @Midge_10 @billymckay22 @Joshuamullin7 @olishaw12 @NathanBaxterGK @harry_paton98 #Over70Challenge #StayActiveStaySafe pic.twitter.com/FrG6YBxhHF

— Ross County FC (@RossCounty) March 23, 2020
Cowie, who has 10 Scotland caps, says his contribution to health workers was motivated by his wife Shelley, who works within the NHS.
He added: "I know from my wife working in a doctor's surgery the stress and amount of work they are having to go through.
"I can't even begin to imagine what they are doing in hospitals between the nurses and doctors.
"That was one of the main reasons I wanted to do it, on behalf of myself and my wife."
Michael Gardyne, Billy Mckay and Liam Fontaine are among the players to have taken up the challenge, while Staggies chairman Roy MacGregor also made an unsuccessful attempt to complete it.
👏 Next up in the #Over70Challenge is Staggies No1️⃣ Ross Laidlaw!

Get involved…#StayAtHomeSaveLives #StayActiveStaySafe pic.twitter.com/wMjr33x98H

— Ross County FC (@RossCounty) March 25, 2020
👏 Ross Draper is the latest 1st Team player to take on the #Over70Challenge!
Will you join him? #StayAtHomeSaveLives #StayActiveStaySafe pic.twitter.com/sOf9rrUXgt

— Ross County FC (@RossCounty) March 24, 2020
Visit Ross County's Twitter feed to watch all of the clips
Cowie added: "It was brilliant the manager put the challenge out there.
"I was made aware of it, and I just thought it would be good for myself to get involved as a current player – firstly for the kids to see professionals from their club taking part, but also at the same time to try and raise some money and a bit of awareness.
"It's great to see the chairman getting involved as well. There have been kids from our academy, as well as kids in general.
"It's all for a great cause, and several of the other players have also donated while doing it as well.
"I have given them until the end of the week, so there is still plenty time for the rest of them to get involved."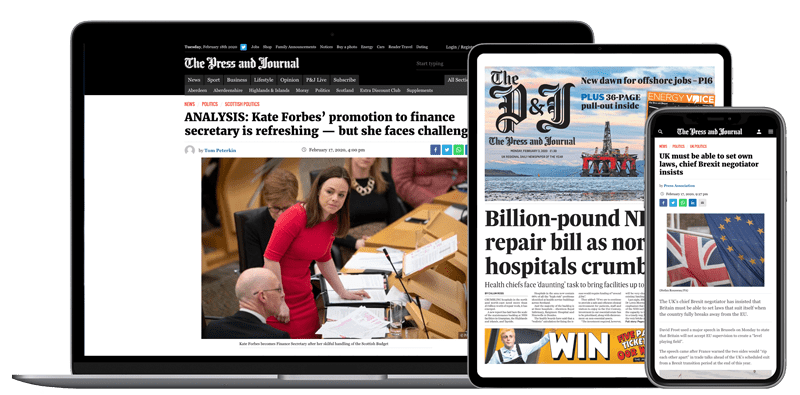 Help support quality local journalism … become a digital subscriber to The Press and Journal
For as little as £5.99 a month you can access all of our content, including Premium articles.
Subscribe