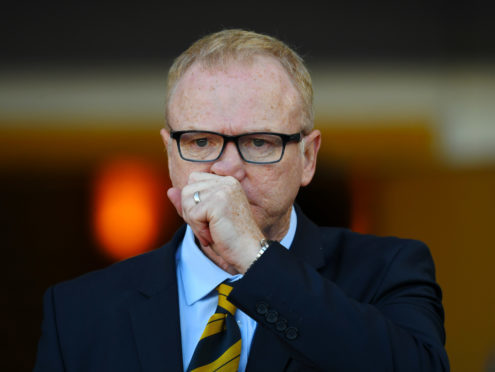 Scotland manager Alex McLeish insists he will not be treating his side's Euro 2020 qualifying group lightly despite being guaranteed a place in the tournament play-offs.
The Scots booked their place in the play-offs for the tournament courtesy of winning their UEFA Nations League section, with Tuesday's 3-2 victory over Israel securing top spot in Group C1.
The result means Scotland are now just two games away from ending their 20-year wait to reach a major tournament, with McLeish's men scheduled to host Finland in their play-off semi-final in March 2020, for the chance to play either Norway or Serbia for a place in the finals.
The conventional qualifying group, which will be drawn on December 2, allows Scotland to skip the play-offs and automatically secure their berth by finishing in one of the top two places in their section, and McLeish insists that is his target.
McLeish said: "We want to qualify from the group as well. We have got to target that. We can't just rely on this play-off. We want to qualify from the group.
"It is realistic. Third seeds have done it before. That's a fact. We will now be dangerous third seeds. Being third seeds is progress.
"I think we have got to be happy at how we've done. We had a go to top the group and we have done that. Now we, like every good team, will put it in the past.
"We have got to use these games, and the fact we can get there, to our advantage. But we want to qualify from the group stage."
Scotland ended their Nations League section in style as they offset a succession of call-offs to defeat Albania and Israel, netting seven goals in the process.
Although McLeish named the same side for both matches to great effect, the former Aberdeen defender is excited by the return of the nine players who withdrew, adding: "Now the players have got a wee bit of momentum. You can't preclude that you will lose players, and lose some of your good ones, at certain moments. That can obviously be difficult.
"It can be hard to keep the momentum and keep winning. But we believe the way we have come through these two games, everybody will be desperate to come back and play for Scotland.
"Kieran Tierney was gutted to miss out and so was John McGinn, two really good young players who have been produced in this country.
"Can they become Scottish greats? That's the challenge for them.
"They were very keen to ignore the scans and come and play for Scotland. But there is no way we can allow those risks with the clubs."
McLeish initially faced criticism after a slow start to his second spell as national team boss, having won just one of his opening five friendlies before overseeing a humiliating 2-1 loss to Israel in Haifa last month.
Having won all three of his other competitive fixtures, McLeish feels his side is on the right track, with the 59-year-old adding: "Football is really fickle nowadays. You are judged early doors – two or three results and it is crisis. We played five friendlies and have only played four competition games.
"I am only getting started. I just need a bit of slack. After the last game I didn't feel very good for 24 hours. But as soon as I get back in the next day I am hard at it again.
"I want to prove everybody wrong who was doubting me. That was the key and it has always been the key. Whenever you get knocked down you have to get back up. I have done that loads of times in my career.
"If it didn't go well on Tuesday night it would obviously be a bit of a different interview. But I would be telling you I have only just started. The qualification games are the ones that mattered."