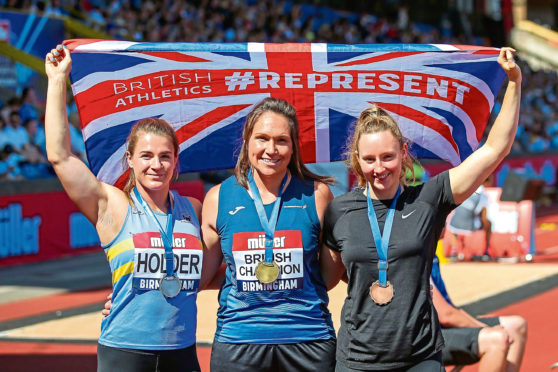 Discus thrower Kirsty Law (Inverness Harriers) goes into tonight's British championships in Manchester full of confidence after throwing beyond 57 metres in five different competitions over the past month.
It's the first time in her long and successful career that the Loughborough-based 12-time Scottish champion has produced such a consistent series of performances and it's all the more remarkable given how short the season has been.
Her furthest throw of 57.67 at St Clement on Jersey is only 12cm short of her lifetime best set in 2012.
Law said: "Officially I've had four throws over 57, but at one of the meetings we were allowed an extra throw and I got 57.24 so that's my fifth one.
"It has been my best year so far. I knew I was in shape at the start of the season, back in March, but then we had lockdown and all competitions were cancelled.
"I know there's more in me, which is frustrating, but it will come. I just need to be patient.
"I have lined up another series of competitions next week to give myself every opportunity to throw further before taking a few weeks of a break.
"Hopefully we'll get good conditions at one of them. At most of the competitions I've been to so far there has been a tailwind, a crosswind or it has been calm. Discus throwers must be the only athletes who enjoy a good headwind."
Law won the British title for the first time last summer, but knows she faces an almighty battle to repeat that success as 2016 Rio Olympian Jade Lally will start as favourite.
The duo are good friends, train together at Loughborough and have regularly competed head-to-head over the past couple of months, with Lally coming out on top on every occasion so far.
Law said: "We both want each other to do well, but we also both want to win. So, it will be tough. "
Law's Inverness clubmate Stephen Mackay is also in action at the British championships this weekend, competing in the 1500m.
He showed outstanding form at Stretford last month when setting a PB of 3:45.84, but subsequently picked up a bad cold, although he now feels fully recovered.
Mackay said: "I'm fit and healthy so I'm looking forward to it. The first priority is to reach the final. There's some big names there but it's still quite open so anything can happen."
A third Inverness Harriers club member, Anna Nelson, will also hope to do well at Manchester. Nelson – also Loughborough based – competes in the 400m hurdles.