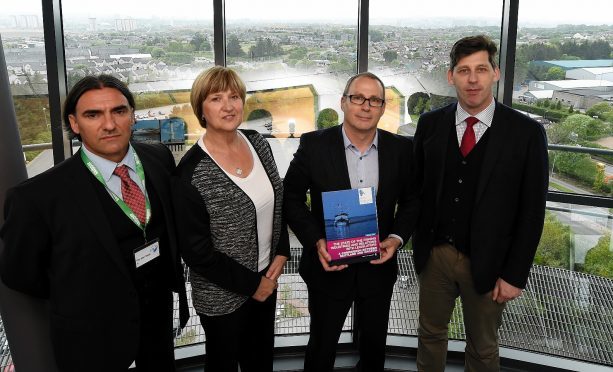 An "ambitious and bold" plan to export Scottish fisheries management expertise to other parts of Europe was launched in Aberdeen yesterday.
The report's author, Scottish White Fish Producers' Association chief executive Mike Park, said the experience of this country's fleet in surviving year after year of cuts to emerge profitable again was an example for others to follow.
His document – The State of the Fishing Industries and Relations with Regulators: A Comparison Between Scotland and Croatia – recommends the setting up of a cross-border group of Scottish and Croatian fishers and representatives.
The idea is to help establish a "fully-funded, fully-transparent and inclusive system of fisheries governance in Croatia".
Mr Park, whose report was sponsored by Brussels-based think-tank New Direction: The Foundation for European Reform, said lessons learned in Scotland would be invaluable as Croatia goes through its own "process of change".
Contrasting the fortunes of a troubled Scottish industry 15 years ago and a confident, albeit much leaner one now, added it was time to help other countries "understand the complexities of European policy".
In his report, launched at the Skipper Expo International fishing show, Mr Park said Croatian fishers and their currently weak economy could be the first to benefit.
"There would seem to be a real interest from Croatian fishermen in becoming involved in the decision-making process, both at home and abroad" he said, adding: "Their struggles to date have delivered little with regard to creating that necessary voice."
Mr Park said his "ambitious and bold" recommendation to use Scottish input to help change this for the better could deliver results within a couple of years.
New Direction is affiliated to the Alliance of European Conservatives and Reformists.
It was founded in 2010 under the patronage of the late Baroness Thatcher.
Scots Tory Euro MEP and New Direction secretary-general Ian Duncan said European fisheries funding could be used to get the initiative to "empower" Croatian fishers off the ground.
Also at the launch were Croatian fisheries expert Alen Soldo and Ruza Tomasic, an MEP in the eastern European country, who said she was "in awe" of the Scottish industry and welcomed the move to develop links.