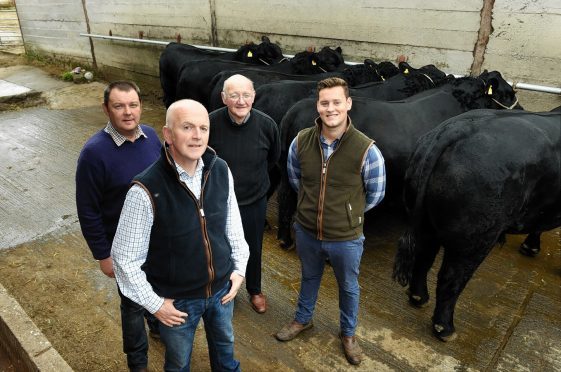 Cattle-breeding is a family affair for the Watties with three generations of the family involved with the enterprise.
The family farm – Mains of Tonley, near Alford – was bought by Neil Wattie sen in 1966 and the Tonley herd of pedigree Aberdeen-Angus cattle was established in 1993.
Day-to-day running of the farm is done by Neil's grandson, Mark Wattie, and his son-in-law, Gary Coutts. Mark's father, Neil Wattie jun, is also heavily involved with the business, however he works away from the farm in his role as managing director of well-known north-east machinery firm Sellars Agriculture.
Prior to keeping Angus cattle, the 400-acre farm was home to a 100-sow pig unit with all progeny finished on-farm.
Neil jun said the decision to move into Aberdeen-Angus cows was sparked by his father's fondness for the breed, which he grew up with as a youngster, and the breed's revival in the early 1990s.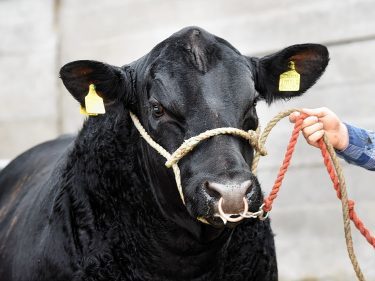 The majority of cattle in the 140-cow herd are spring-calvers with a small batch of around 20 cows calved in autumn.
"It's all to do with timing the bulls for sales, but we don't mind an odd late bull because we get the chance to get a bull in a different class," said Neil jun.
All cattle are outwintered and they are only brought inside for calving, with the exception of heifers and first-calvers which are given special treatment and brought in for winter feeding. As such the family is calving down at two-years-old.
The breeding programme, which now features the use of embryo transfer technology, is focused on breeding animals with "a bit of size that can carry flesh as well".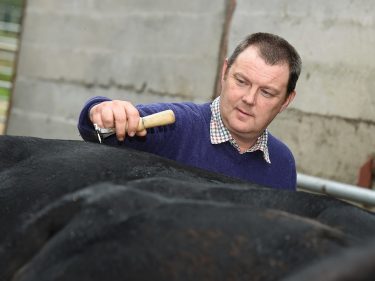 Mark said all cattle must also have good locomotion and good conformation.
Neil jun added: "We like good length as well and in my view the Aberdeen-Angus are also really easy to manage."
All bulls are kept entire and the ones not selected for future breeding are finished as bull beef.
Neil jun said: "We get them away before the 16-month deadline and aim to get them away at 400kg deadweight. Any heifers we kill, we are trying to get them between 320-350kg deadweight at 20-months-old."
Between 20 and 25 bulls are sold every year and this year around 20 heifers will leave the farm, with some already exported as far afield as Germany, Lithuania and Romania.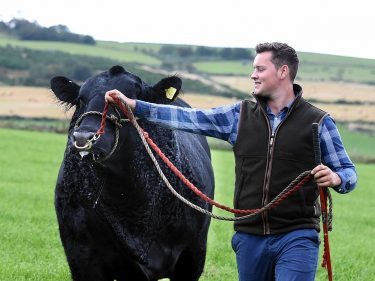 This follows Mark, 21, establishing a relationship with European breeders during Aberdeen-Angus Society trips to Germany.
Neil jun said the herd's profile and success has rocketed since Mark got more involved with the business.
Mark's suggestion to start selling females at Stirling in 2014 paid off when the family lifted the female champion title at the February sales fixture that year with Tonley Elma which went on to sell for 8,500gn.
That same year the family sold a bull for 13,000gn and in October 2014 they lifted the overall champion title with Tonley Pato which sold for 12,000gn.
However the family's most successful Stirling sale happened in February when they lifted the overall championship title with Tonley Evor, which landed them the herd's best price yet of 24,000gn.
Fast forward eight months and the family is hoping for another good sale with their entry of six bulls.
Their pen comprises five sons of the 9,000gn Warrenho Emperor which is owned in partnership with the Blelack herd at Aboyne, and a three-year-old bull named Tonley Jose Enrique.
Mark said the senior bull is only being sold because he is no longer needed following the family's purchase of a new stock bull – Deveron Leggat – from Hamish and Margaret Sclater's Deveron herd at Turriff.
This month's sale will see the Watties sell their first lot of Emperor sons, however sons from the bull have already been sold successfully with one bred from the Blelack herd achieving 10,000gn at Stirling in February.
So why do the Watties focus on selling their bulls at Stirling?
Neil jun said: "We've been selling bulls at Stirling for about 15 years. It's regarded as the main bull sales in the country and if you really want to show your stock off it's where you go. It's where the biggest audience is to view your stock, and although you are taking your bulls to sell them it is about promoting your herd at the same time."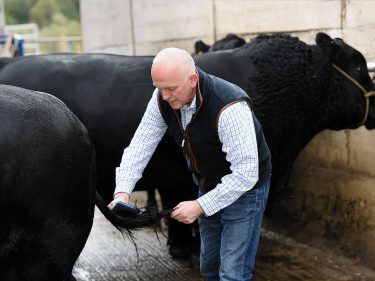 As well as their contingent of 18-month-old Emperor sons, the Watties are also selling four cow and calf outfits and a two-year-old heifer at Stirling later this month.
Mark said: "One of the cows was yearling heifer champion at the Black Beauty Bonanza and she and the others are being sold because we have a lot of heifers coming through."
In future the family's bovine companions for Stirling will be another colour following the purchase of four Charolais cows last year.
The newly established Charolais herd, which also carries the Tonley prefix, currently comprises six females and one of their calves has already earned a show rosette.
The first Tonley Charolais calf to be born on the farm – Tonley Lavezzie – stood reserve champion at the Banchory Show earlier this year.