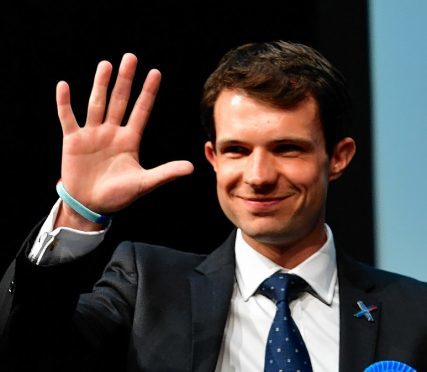 Theresa May launched a fierce attack on the Scottish Government yesterday as new Tory Andrew Bowie accused the SNP of "failing rural Scotland".
The prime minister said the SNP's policies were "not in the best interests of the people of Scotland".
And she accused ministers of keeping power in Edinburgh rather than devolving it to the regions.
Her tirade came in response to Mr Bowie's debut at Prime Minister's Questions.
The West Aberdeenshire and Kincardine MP used his slot at the weekly Commons exchange to raise the Scottish Government's handling of farm subsidy payments.
EU rules stipulate that 95.24% of all payments under the Common Agricultural Policy must be delivered by the end of June.
But Rural Economy Secretary Fergus Ewing confirmed at the weekend the deadline had not been met and said the government was awaiting a final determination from the European Commission regarding an extension.
Mr Bowie described the situation as "utterly shameful", adding: "Is that not proof, if further proof were needed, that the SNP is failing rural Scotland?"
Speaker John Bercow intervened to point out the prime minister is "not responsible for the Scottish Government", before allowing her to answer.
Mrs May, who awkwardly mispronounced Banchory when saying how much she had enjoyed her visit there during the election campaign, went on the offensive.
To angry responses on the SNP benches, she replied: "Time and again in this chamber, we hear the Scottish nationalists demanding more powers for Scotland, yet what do we see?
"We see that they are failing to deliver for the Scottish people with the powers that they already have.
"Yet again, Scottish schools are now outperformed in every category by schools in England, Northern Ireland, Estonia and Poland.
"Powers are kept in Edinburgh rather than being devolved to local people and … yet again we see farmers waiting months for their subsidy payments."
The prime minister added: "The simple fact is that the SNP's policies are not in the best interests of the people of Scotland."
A spokesman for Mr Ewing said only the Tories would choose to talk rural Scotland down on the day that the latest GDP figures showed agriculture, forestry and fishing grew by 0.9% in this quarter compared to the same period last year.
He added: "If the Tories want to help rural Scotland they can start by transferring £160million EU convergence monies that rightfully belong to Scottish farmers, guarantee Less Favoured Area Support Scheme funding for 2019 and guarantee that they will match the 16.5% of CAP funding Scotland currently receives."