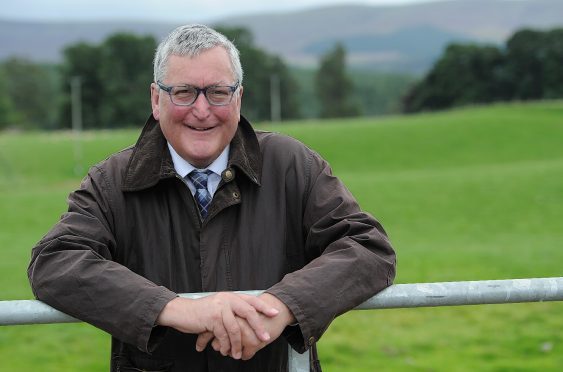 More than a year has passed since Fergus Ewing was appointed cabinet secretary for the rural economy in the Scottish Government.
He replaced Richard Lochhead and inherited what many in industry have described as a "train wreck" in the ongoing problems with a new £178million IT system to administer Common Agricultural Policy (Cap) payments.
Since then he has repeatedly pledged to put the system on an even footing and given countless assurances that "progress has been made".
Despite his best efforts, the system is still not working properly and various government-backed loan schemes have had to be offered to farmers and crofters to ensure vital funds are delivered to the rural economy.
Next week Mr Ewing will make a "stabilisation statement" to parliament and provide an update on the current situation.
"One of my key priorities is to provide farmers and crofters with financial security while we work to put the Cap payments system on an even footing," said Mr Ewing.
"Progress has been made. It may not always seem that way to your farmer readership.
"It's very important to me that we solve the problem with Cap IT. We have made substantial progress."
He said further government-backed loans could be on the cards for 2017 payments as government is "not quite there yet" with fixing the IT system.
"The system works but it does not work quickly enough," he added.
On the issue of Cap, Mr Ewing was also keen to highlight an ongoing gripe of his government and Scottish farm leaders – that of convergence uplift.
This is money, totalling around £190million, which was allocated to the UK from the EU to bring Scotland's per hectare subsidy support figure more in line with the European average.
Scottish Government and industry has long called for the money to be delivered to Scotland, and despite various assurances from previous Defra ministers, no progress has been made.
"I'm very determined to pursue this with the UK Government until we reach an agreement," said Mr Ewing.
"This was not a Cap payment, but a payment for Scotland. The UK Government snaffled it."
He said he had raised the issue with Defra Secretary Michael Gove during his visit to the Highland Show in June, and he planned to pursue it again at a meeting with Mr Gove on September 25.
Previous correspondence with counterparts in Westminster had delivered "100% for manners and 0% for content," added Mr Ewing.
"We try deal with the UK Government on a practical basis and it's not practically easy," said Mr Ewing.
This was particularly evident with Brexit, or B-Day, as Mr Ewing coined it.
He described the situation as a "booroch" and said he was determined to make the best of the "very difficult set of challenges" Brexit posed.
"I think hill farmers are the most at threat," said Mr Ewing.
"They not only provide high quality beef and lamb, but they also are the custodians of the countryside and they shape the landscape that attracts tourists."
He said UK Government guarantees, announced last week, to ensure Less Favoured Areas Support Scheme (LFASS), funding until 2019 did not go far enough.
"Hill farmers, in particular, rely heavily on the LFASS payment," said Mr Ewing. "If it were withdrawn abruptly then thousands of hill farmers would cease hill farming and the land would be abandoned."
Without concrete guarantees over future funding for the agricultural sector, this was a real threat, added Mr Ewing.
He said government was preparing plans for the future with the aid of its national council of rural advisors and its four industry champions.
He called on farmers, crofters and industry organisations to share their views on the Brexit process with policy makers and civil servants in Westminster.
"I have urged various groups to submit their views to the Brexit process so the civil servants in Westerminster will receve a whole, solid corpus of evidence from the rural economy stakeholders in Scotland," said Mr Ewing.
And although Mr Ewing said he was unable to give assurances on funding levels, without getting assurances first from Westminster, he said some form of support must continue in Scotland in future.
Other priorities for the cabinet secretary in the weeks, months and years ahead include helping farmers, crofters and rural business owners by making the planning laws more flexible.
"I want to make sure that farmers and crofters are playing the best part in our food and drink project where we want to double the value of that sector of the economy by 2030," said Mr Ewing.
"I want farmers to get a big share of that."
He also pledged to increase the amount of Scottish produce being procured for public sector contracts, and like many politicians in similar roles to him, he said he wanted a "sustainable and profitable farming sector".
Just how Mr Ewing, or any other agricultural minister will achieve this, remains to be seen.
For now, however, wading through the Brexit booroch, battling with a troubled and expensive IT system and fighting Westminster politicians for snaffled money and funding assurances, should keep him busy.