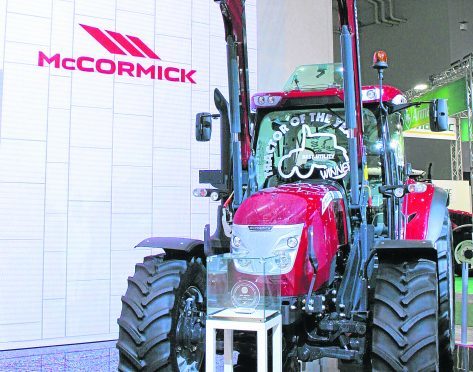 Machinery experts from across Europe have selected a 130hp McCormick tractor as the winner of the tractor of the year award.
The McCormick X6.4 was praised for its compactness, manoeuvrability and build integrity as well as the advantages and benefits of a continuously variable transmission. Such technology is usually confined to more powerful arable cropping tractors.
Speaking at the Agritechnica international machinery show in Germany, Ray Spinks, of AgriArgo, the UK and Ireland distributor for McCormick tractors, explained that with a conventional gearbox, speed control is regulated by the number of gears available.
"Even with the most generous manual or powershift gearbox, operators can find themselves being unable to drive at the optimum speed for a particular task," he said. "But VT-Drive combines mechanical and hydraulic drive in a way that delivers infinitely variable speed control and ultra-fine speed adjustment, so the optimum speed is always available."
To drive the tractor, the operator selects forward or reverse with the shuttle, then uses either a joystick or the accelerator pedal to move off and speed up or slow down – engine revs and transmission ratio are automatically balanced by the control electronics according to the load on the tractor. When a fixed engine speed is needed to operate a pto-driven implement or a consistent ground speed is required for a particular operation, appropriate modes can be selected that instruct the control system to manage the powertrain accordingly.
"Apart from providing the ground speed precision that can optimise the quality of an implement's work or deliver extra output, a tractor with VT-Drive is very simple and also very comfortable to operate because there is less for the driver to think about," said Mr Spinks.
"It's also very smooth and efficient, both in the field and on the road, and often quieter and more economical too because once up to speed, the engine revs fall away as the transmissions ramps up."
The Tractor of the Year judges also noted the McCormick tractor's suitability for loader work and the touch screen interface that can be used to set-up and select various features.