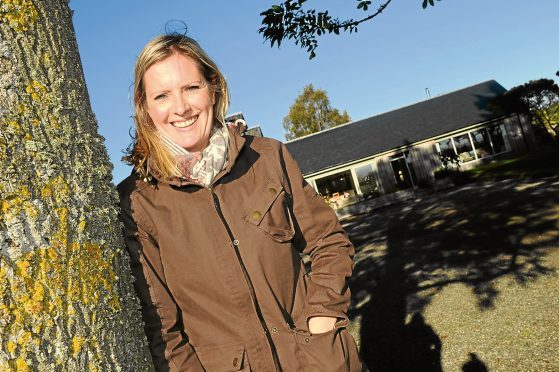 December seems to come around quicker every year.
Rootfield's boundaries were checked and reinforced ahead of the sheep arriving from Essich about a fortnight ago to winter on lower pastures. The tups arrived shortly after to "work" the flock.
On a similar note, Nick is currently trying to negotiate an exchange on his recently acquired bull, Hank, who is apparently not having any hanky-panky with the herd.
As the pedigree Simmental is, unfortunately, not "doing his job" he has to go. I was somewhat taken aback the other night, however, when Nick said: "I'll just have to do it myself", a rather unfortunate way of explaining he will need to perform more artificial insemination until a replacement bull can be found.
The snowy spell a few weeks back got all of us here at Rootfield in a festive frame of mind and after much pleading by Daisy, we have had our tree and decorations up since the 1st (the very reason we bought an artificial tree when Daisy was three).
We were delighted, too, that Mollie helped hang the ornaments and baubles on the tree this year rather than removing them, as we thought she might.
Despite being just two, she constantly astounds us with her daily antics – climbing on to a chair to swap the DVD to her preferred one, changing her baby's nappy, joining in with musical statues at Daisy's party. Being the second-born, I guess she will always be in a hurry to keep up with her big sister.
The school calendar is naturally very hectic this month with not one but two festive plays, a trip to the pantomime, parties and Christmas lunch for Daisy and her friends. Daisy also had the great honour of being bridesmaid for my lovely stepsister Charlotte and her effervescent husband, Jamie, last weekend.With all the snow and amazing attention-to-detail, it truly was a magical winter wedding and Daisy had an absolute ball.
With six inches of snow at Rootfield, the girls have loved playing outside. For Mollie, Nick and I have even discussed the possibility of sending her to an outdoor nursery when she is old enough (enrolment is a year before she is actually eligible.)
There is a new proposed Outdoor Early Years Childcare Centre just along the road from us which, as its name suggests, would offer an all-weather outdoor nursery setting for three and four-year-olds. As local councillors put it to interested parents attending an information session last month, "there's no such thing as bad weather, just inappropriate clothing".
Dressed in appropriate outdoor clothing then, the children would basically get back to nature and build dens, play in mud kitchens, make mud slides, forage and generally explore the great outdoors. There would be access to inside space for quiet time and in the worst weathers, but generally the idea is that it's all outside.
I have to confess I was in two minds at the meeting. I was confident that Mollie would enjoy being outside, as it is she pulls on her wellies and gets her coat off the peg any chance she gets, but I worried that it would be too much having her out in all weathers for up to 22 hours a week – the proposed number of funded childcare hours she will be eligible for by 2019.
More commonly found in Scandinavian countries, outdoor nurseries are gaining popularity in Scotland too with 20 registered with the Care Inspectorate over the past five years. The ones I've come across in our local area include Stramash, with outdoor nurseries in Elgin, Fort William and Oban, as well as the newly launched Summerlings in Glen Strathfarrar near Beauly.
Part of a social enterprise called The Sheiling Project, an off-grid learning centre based on sustainable outdoor living, Summerlings Outdoor Nursery is currently open three days a week and offers funded and private places.
It's not difficult to appreciate why outdoor classrooms are beneficial. As Summerlings' nursery manager, Karen Marshall, told a local newspaper: "I have seen the impact the outdoors can have on the imagination, curiosity and resilience of children, and how vital this is in the early years." She added that the positive impact of learning through nature can last a lifetime and "we have all heard about the need to combat nature deficit disorder".
As I've mentioned before, I married into a farming family and while I enjoy beach walks and snowy mountains, I readily admit I like my home comforts too. That said, I find myself far more open to the concept of outdoor learning for Mollie especially when I see how frighteningly interested she is in technology. She can already find music, photos and videos on my phone and the tablet.
Nick has attended another three days of the Rural Leadership Programme, including an overnight stay with lots of Apprentice-style workshops and valuable mentoring. Last week it was social media training, which he found hugely helpful if a little daunting. (I have mentioned before that I'm something of a luddite – Nick is too).
In time, and certainly when Mollie starts pre-school, I hope I can support Nick more with this side of the business. I will definitely need training though.
Festive flavours are now being stocked here at the farm and by some of our bigger suppliers (The Storehouse at Foulis and The Dairy at Daviot) including White Chocolate and Honeycomb, Chocolate Orange, Sticky Toffee Pudding, Gingerbread and Mince Pie ice- creams, Clementine and Cranberry, Prosecco and Mulled Wine sorbets.
Rosie and her team are also busy with ice-cream cake orders, our frozen alternative to a traditional plum duff. Last orders for these were December 15 although there will be a selection of ready-to-buy cakes available from our honesty shop for any last-minute shoppers.
Merry Christmas and a happy new year when it comes, and a huge thank -you to all for continuing to read my column.
NEXT MONTH: resolutions at Rootfield
Rootfield Farm is on the Black Isle, 10 miles north of Inverness, where Jo lives with husband Nick, a fourth-generation dairy farmer, their daughters Daisy and Mollie, and 150 cows