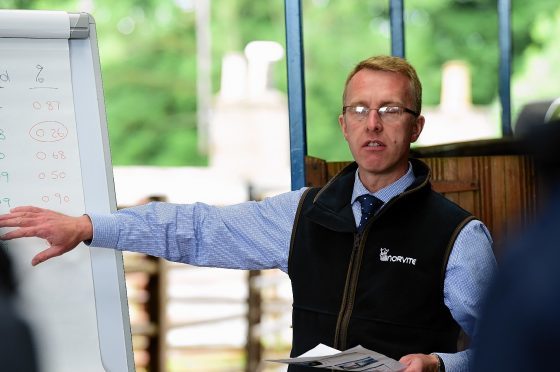 Farmers should consider buying their winter mineral requirements now amid warnings prices could rise later this year.
That was the message from Norvite technical director David McClelland at the open day at Drumsleed.
Mr McClelland said the strengthening of the pound against the euro following the Brexit vote, was having a damaging effect on the north-east animal feed firm, which buys all its minerals, trace elements and vitamins in euros.
"The conversion rate between the pound and euro is a real concern so there will be changes afoot. What we are buying in will be detrimentally affected in terms of cost so watch that risk over the next few months," said Mr McClelland.
He said there were also concerns about the cost of vitamin E, which could rise due to a potential tightening of supply later this year.
The bulk of vitamin E is produced in China and there are fears many of the manufacturers could be forced to temporarily close their factories while the country's government tries to tackle air pollution as it hosts the G20 Leaders' Summit later this year.
Mr McClelland said Chinese vitamin E factories were forced to close their doors in 2008 for the Beijing Olympics and this resulted in the price of the vitamin rising from £4 a tonne to £20 a tonne in the space of a few months.
Despite the potential price challenges, Mr McClelland urged farmers not to scrimp on minerals and vitamins as they were essential for livestock production.
"Minerals are a very small part of the diet, but a very key part. A small amount can make a very big difference in terms of animal improvement," said Mr McClelland.
Vitamin E, for example, improved vitality and liveliness in calves, while iodine was beneficial to boosting fertility in cows, he said. Mr McClelland said there were several different ways to get minerals into cattle and the key thing was ensuring the stock were getting the right amount and not being given too much.
He said whoever was responsible for selling minerals to farmers needed to do a check of all the different sources available to livestock to ensure they were not being given too little or too much.