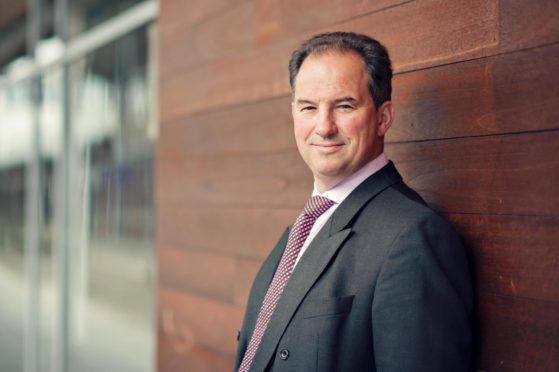 The outlook for Scotland's economy remains "grim in all sectors," according to new research that detected only weak signs of recovery after Covid-19 lockdown restrictions were eased over the summer.
Scottish Chambers of Commerce (SCC), which carried out the survey, has forecast a "bleak" winter ahead, particularly for tourism businesses and retailers.
Last night, a plea by SCC president Tim Allan for "lifeline" government support for firms to continue was echoed by chamber leaders in the north and north-east
The organisation's latest Quarterly Economic Indicator found that while "fragile confidence" had emerged in some business areas over August and September, trends continued to be "significantly negative" compared to pre-Covid-19 conditions".
More than half of retail and wholesale firms surveyed recorded a drop in total and domestic trade and 46% of tourist businesses said their sales had fallen, compared to the second quarter. Around one-third of construction and manufacturing companies, four in 10 retailers and more than half of tourism firms are also expecting further sales drops.
Mr Allan said: "This latest survey shows how fragile some parts of the economy in Scotland remain in this crisis.
"It makes sense that there would be some improvement compared to the previous quarter, when significant parts of the economy were in an almost unprecedented shutdown. But this winter brings significant risks for business, including further lockdowns and a decline in government support.
"Now is not the time to cut lifeline support. We expect joblessness to continue to rise, hitting hard in November. There is an urgent need to bridge the skills gap between those who have lost their jobs and those that are still recruiting."
Aberdeen and Grampian Chamber of Commerce chief executive Russell Borthwick said the survey revealed the "huge pressure" Scottish firms were under.
Mr Borthwick added: "In the north-east, our pubs, bars, restaurants and hotels have already faced the hit of the Aberdeen city local lockdown, which also impacted our retail businesses and the broader city centre through reduced footfall.
"The Scottish Government needs to ensure the £40 million support fund is accessible to all, recognising that on a practical level, for many hospitality firms outside the central belt, temporary closure may be their only option to survive. We can't keep switching the economy on and off."
Caithness Chamber of Commerce CEO Trudy Morris said after "some positive movement" in the hospitality and tourism sector, the latest restrictions announced this week were likely to prove "devastating" unless significant support is provided quickly to all businesses affected.
She added: "Both UK and Scottish Governments need to monitor the situation over the winter closely and in regular consultation with business."
Moray Chamber of Commerce CEO Sarah Medcraf said: "We can see that all sectors are struggling and our economy remains very fragile. Some businesses have made it through the battle but the war is not over. Both governments need to work together and also support local authorities to enable businesses to get back on their feet."