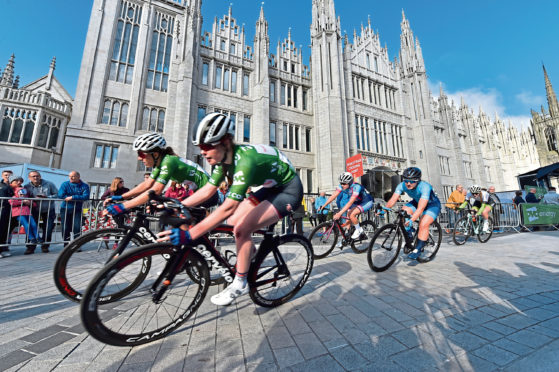 Sporting events and attractions are not just big businesses in their own right – they also bring both social and economic advantages to the surrounding areas.
Whether it be crowds flocking to see the Great Aberdeen Run, the Tour Series or the Scottish Open or families coming to experience the local action at venues like Transition Extreme or Go Ape, they all contribute to a more vibrant economy.
For the last three years the city has successfully hosted the Tour Series, which has attracted many thousands of spectators, with footfall in the city centre increasing by 3,000 when the event was last held on May 16.
As a result of its success, councillors in Aberdeenshire have now agreed to enter into a bid to bring the UK's biggest bike race to the north-east.
Aberdeen City and Aberdeenshire council bosses want to bid to host the final stage of the 2020 edition of the Tour of Britain – a week-long stage race featuring some of the top names in the sport.
There are also plans to bid for the event's Grand Depart in 2021.
Members of Aberdeenshire Council's infrastructure services committee have already agreed to enter into a contract to host the event – which has featured stars like Tour de France winner Sir Bradley Wiggins.
And they said they will commit £100,000 per year for two years, subject to the same level of investment being made by the city council.
Chairman of the committee, Peter Argyle, said: "Clearly it's extremely good news for Aberdeen and Aberdeenshire.
"Having such a prestigious event coming to the north-east is tremendous and presents an opportunity to promote this area and bring people here to get them to experience the north-east and come back again."
A report to councillors said a route has not yet been decided and will be created in conjunction with the organisers to maximise the benefit for tourism.
It estimates that £1.4 million could be generated for the region by the Tour Finish in 2020 and £1.8m for the Grand Depart in 2021.
It is estimated that around 30-40,000 spectators would attend the events.
Chris Foy, chief executive of VisitAberdeenshire, previously spent a number of years in his career working to bring the Olympics to the UK in 2012 and knows the importance sport can play in creating a visitor destination.
He said: "Experience from London 2012 taught me that there are two important strands to consider when it comes to event tourism.
"Firstly, 'event related tourism' – the direct economic impact from visitors coming to the host destination while the event is on.
"Secondly – and arguably more impactful – is 'event-motivated tourism'; future visitors who are inspired by what they heard about, read about, or saw on their screens while the event was on.
"A combination of excellent facilities, a warm welcome and attention to detail are necessary components to be successful across both strands. Aberdeen and Aberdeenshire are pretty well equipped on all those fronts."
Adrian Watson, chief executive at Aberdeen Inspired, added: "We are very supportive of these large-scale events which bring thousands into the city centre.
"Crowds were extremely healthy for the Tour Series and the Aberdeen Great Run last year. Attracting events like these are a real kudos to the city."
The city is already preparing itself for the next Great Aberdeen Run, which will take place next month.
It is expected the event will again increase footfall, with supporters and participants generating extra business.