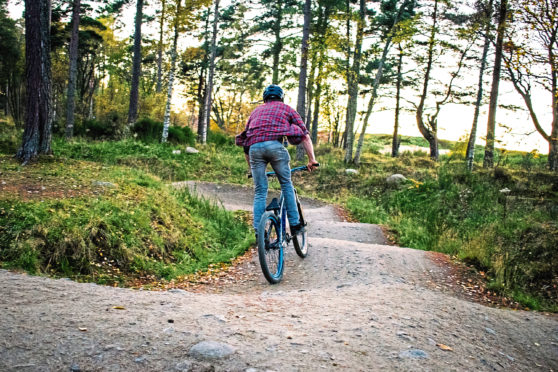 With football alone contributing more than £200 million directly into the Scottish economy, according to a 2018 Uefa report, sport is big business.
With the Scots' love for golf, rugby and tennis, and with the natural terrain for all-weather adventure sports, I wanted to explore just how beneficial this often-forgotten business sector is to the local economy.
As Aberdeen has been long known as the Granite City and the oil and gas capital of Europe I sat down with two people who wanted to put the north-east's businesses on the map for something a little more fun.
Martin Byers has been a keen cyclist since he was a child. And after spending some time in the oil industry as a business development manager he decided it was time to follow his passion and head up Gravitate North East.
This is a charity aimed at turning Aberdeenshire into a mountain biking, snowsports and adventure destination that hundreds of thousands of tourists will flock to each year.
It's a big dream, which will cost at least £8m to get off the ground, but he believes it's one that's doable.
Joining us at Number 10 bar and restaurant was Anna Mackenzie, commercial manager at Aberdeen Football Club (AFC).
At the moment the Dons are developing Kingsford Stadium, with the training grounds on track to open later this year. This will be AFC's first time to have a home ground not based at Pittodrie since the club was established in 1903.
But Ms Mackenzie believes it has needed a monumental change to allow them to reinvent match-day experiences and give something back to the city in terms of delivering a facility which will benefit the whole community.
Mr Byers said Gravitate North East had moved on significantly since a local group of Aberdeen mountain bikers got together in 2015 and decided it was time for Aberdeenshire to get its own dedicated, purpose-built mountain bike facilities.
He said this is largely down to the help they've received from economic development body Opportunity North East (One).
"It has become one of their major growth targets," he said. "They are looking at sports tourism across the region and picking out key projects and seeing how they can market that.
"So we are a priority project for them and we are looking at renovation plans in terms of how we can make the region more attractive to visitors.
"There is a strategy in place to look at how we can create a mountain biking sports corridor up the whole of the Dee valley, so our project would anchor that. Linking Aberdeen to Durris, Banchory, Aboyne, Ballater, Braemar, all the Cairngorms and into Glenshee, it's all part of this big vision."
Mr Byers said he has already developed a detailed capital expenditure model, there is a funding strategy in place and their market penetration and demand model has been developed.
He added: "That's all there. We've done a couple of feasibility studies and now we're just in funding mode trying to get the funds together. We are engaging with Opportunity North East to try and create some sort of solid financial plan to get the thing off the ground."
In terms of how much is needed, Mr Byers said: "It keeps changing depending on quotes that come in but I think we can bring it in for the £8m mark which is less than we previously anticipated. We would consider crowdfunding but a lot of it will be from places like the Regional Development Fund, sports funding and social outreach."
He believes this project will inject £2.5m into the local economy every year with the creation of around 50 full-time jobs.
Mr Byers said this would equate to 120,000-130,000 visitors every year, but he considered that a "low estimate".
And one of the things set to make this whole project a success is the natural environment which surrounds us.
He added: "We have amazing natural assets but we don't have much in terms of the built assets so that's why our project would anchor the whole thing. We do have lots of natural stuff but it's not particularly well known or marketed.
"Currently there's not a lot of tourists who would travel here for this kind of sporting activity but it's a huge and growing market which is why it's important for us to get involved. Places like the West Coast really benefit from it and we have been left napping a little bit and it's all about catching up."
Ms Mackenzie agreed locals could do more to promote the region they live in.
Having worked at Aberdeen Exhibition and Conference Centre before her move to AFC she said it was never difficult to convince people to take their conferences to the region once they had experienced all we have to offer.
She added: "It's the marketing that we need to get right. We are not known as the most attractive place in Scotland but we really are and it's important people see us for what we have.
"There is a bit of local education needed as well. It's amazing how many people don't know what is already in our region and all the locals should be the region ambassadors."
She said she hoped the Dons' move to Kingsford would be another draw to tourists and football fans from across the country when it's built.
She said: "The beauty of Kingsford is that it's a blank canvas. Historically the Merkland end is the kids end but it's not really equipped as a family stand and the Richard Donald stand at the other end has lots of room.
"With only a couple of years left at Pittodrie you don't want to upset season ticket holders but with Kingsford we can really focus on that match day experience and actually make it work.
"For things like young families they can have a proper day at the football with accessible dining and make it a bit more informal. There will be things like a supporters bar that we didn't have before and focus on non match day as well by maybe having some nicer restaurants people can come to outwith match day."
From light salad to hearty lunch or dinner, Number 10 impresses
Number 10 has always been a firm favourite of mine for lunch and dinner and did not fail to impress yet again.
Whether you're after a hearty lunch or a light salad, the options are there for you. My guests were well catered for, with the vegetarian of the group enjoying her fresh avocado and chickpea salad, while the daily special of pork meatballs and tagliatelle also seemed to hit the spot.
I opted for my recurring favourite of chicken satay which has the perfect amount of crunch, spice and bite to ensure I always come back for more.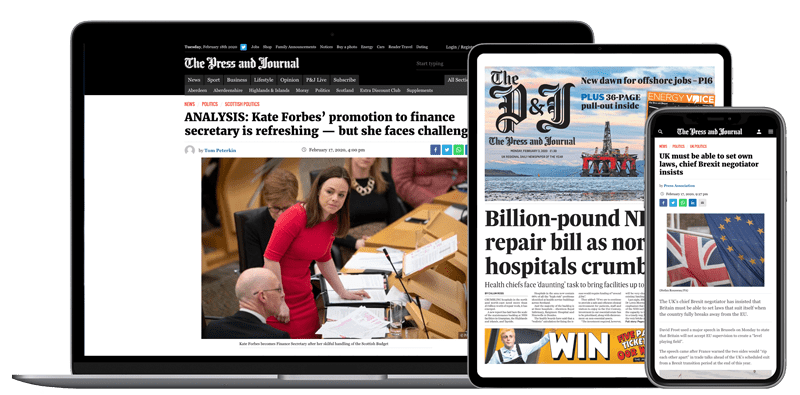 Help support quality local journalism … become a digital subscriber to The Press and Journal
For as little as £5.99 a month you can access all of our content, including Premium articles.
Subscribe