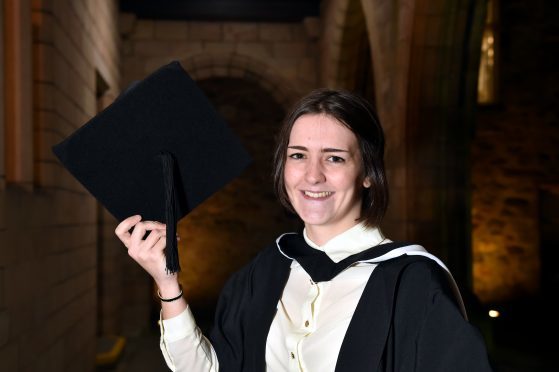 A newly-qualified teacher who suffered from crippling anxiety and depression has thanked university staff for helping her achieve her goals.
Cloudia Tinley graduated with a masters in educational studies from Aberdeen University, despite going through a tough time while studying.
The 22-year-old, from Aberlour, said: "I struggled with anxiety issues so it was difficult to study on top of that.
"I had obstacles in the way but the university was really helpful in looking at options and helping me manage the situation.
"Some of my friends have struggled with anxiety at university and ended up not finishing their courses. I'm really proud that I've managed to do this.
"I didn't know if I was going to come to the ceremony or graduate in absence. But I'm really glad I came. It is something that should be celebrated."
Miss Tinley, who undertook placements at in Elgin and Peterhead, is now looking to get into nursery teaching, as well as travelling to Germany to brush up on her language skills.
She said: "I will probably look at doing the post-graduate diploma in a couple of years when I feel a bit more ready. I feel it's quite an important job."
She was cheered on by her mother, step-father and younger sister.
She said: "They're all really pleased for me. I'd like to thank my mentor teacher Claire Brodie. She was really helpful."