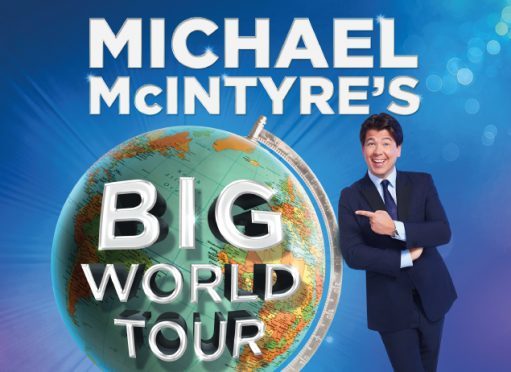 Stand-up star Michael McIntyre has announced he will be returning to the AECC next summer.
The Granite City dates are part of his Big World Tour which will take him across the globe from Iceland to Singapore.
The comedian previously played to Aberdeen crowds in November 2015, selling out two nights on his 'Happy & Glorious' tour.
Senior sales manager at AECC, Anna Mackenzie said, "It's great to be welcoming Michael McIntyre back to the city next year, he is one of the greats on the comedy scene and for such a huge star, he is still really interested in his audience – on his last visit on his Happy & Glorious tour, he had a hilarious conversation with one of the ladies in the audience, who spoke to him in fluent Doric, which he didn't seem phased by at all.
"That tour also offered his audience a McIntyre insight into the quirks of everyday life including driving skills, his relationship and his parenting style, which was clear to be very relatable to a lot of his audience, so we are excited to see what new material this tour will bring and we anticipate the tickets will be on high demand after previously selling out."
He will take to the stage on June 12 and 13 next year. Tickets for Michael's Aberdeen dates go on general sale on Friday at 10am available from www.ticketmaster.co.uk/AECC or by calling 08444 77 9000.