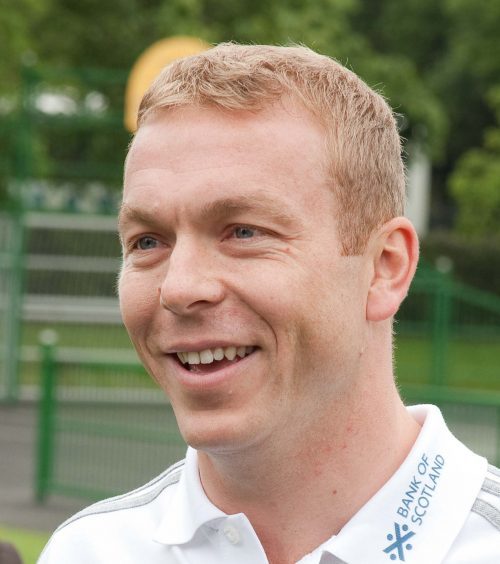 Olympic gold medal winner Sir Chris Hoy has helped launch a new partnership between the Scottish Association for Mental Health and Sportscotland to offer training to 400 active school coordinators.
The initiative, which was launched on World Mental Health Awareness Day, has been established to help young people through physical activity and sport.
Sir Chris, Scotland's most successful-ever Olympian with six gold medals, is celebrating 10 years as a SAMH ambassador.
He met with Sportscotland's active schools coordinators, who will benefit from the programme by learning practical ways of monitoring and managing mental health through their work in schools.
The record-breaking cyclist launched Get Active, the first sport and physical activity campaign by SAMH, back in 2009 and has spent the last decade boosting the charity's efforts to tackle barriers that prevent people with mental health problems from improving their physical fitness.
He said "I'm proud to mark 10 years as a SAMH Ambassador by launching a new partnership that will help the next generation of young people have better mental health through physical activity.
"I have experienced some of the biggest highs in sporting history, but there have been low points along the way as well.
"During those low moments, it was cycling that gave me the strength to keep going.
"I'm a real believer in the link between physical activity and good mental health, because as I know how my mood and my wellbeing can be affected if I don't manage to get out on my bike regularly."
The new scheme has been endorsed by SAMH, which is striving to create greater links with sports groups across Scotland.
Chief executive, Billy Watson, said: "We are thrilled at this strategic partnership with Sportscotland which we believe could be a major breakthrough in building the mental health and wellbeing capacities within sports and their organisations."
Stewart Harris, his counterpart at Sportscotland, added: "Young people have told us how they sometimes feel participation isn't for them, especially when they are facing challenges in their lives, but they have also shared incredible stories of how sport has turned their lives around through a teacher or active schools coordinator.
"That's why we are working with SAMH to deliver mental health training in schools and communities right across Scotland.
"If it can help even one young person to cope with mental health problems and allow them to fulfil their potential, that would be fantastic."
Moray Council's acting educational resources manager, Kim Paterson, said: "Keeping active and exercising is a proven method of improving mental health.
"Our Active Schools co-ordinators, together with local volunteers, deliver thousands of sessions each year across more than 50 schools in Moray.
"Through this training, they will be more empowered to support young people in Moray to improve their mental health through engaging in physical activity."
Alistair Robertson, Managing Director Sport Aberdeen added: "I am delighted that this additional training will be offered to our active schools coordinators.
"They work incredibly hard to create opportunities and inspire young people to participate in sport and physical activity.
"The positive link between participation in physical activity and good mental health is well documented and this initiative will allow our Coordinators to further support young people across Aberdeen to improve their overall wellbeing."