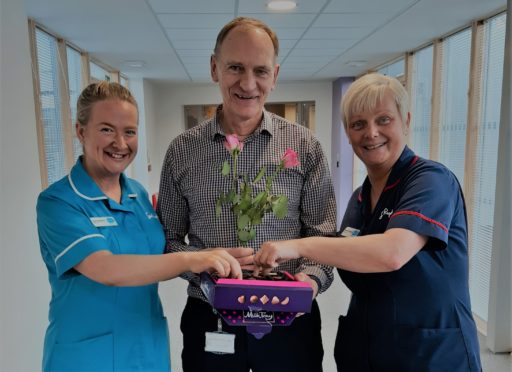 Scotland footballing legend, Jim Leighton, spread a little love this week by popping into Sue Ryder Dee View Court to wish the staff a Happy Valentine's Day.
The Gothenburg Great has been a big supporter of the Aberdeen centre in its aim to raise £3.9million to fund its new expansion and provide more support to people across Scotland with a variety of neurological conditions, including Huntington's disease, severe stroke and acquired brain injury.
Mr Leighton, the former Scotland and Aberdeen – and Manchester United – goalkeeper has made regular visits to the Sue Ryder facility and admits he had been left humbled by the scale of the care, commitment and compassion which is constantly provided by the staff towards the residents.
He said: "It is an unbelievable place. I am used to going into nursing homes because my dad was in one of them until he died last year.
"You walk into the centre and you never see anybody without a smile, whether they are a resident or one of the staff.
"Sometimes, you meet people and they are not folk who are older than me, they are people half my age, who still have more than half their lives to live.
"You know that Dee View Court is going to be their home, more or less, for the rest of their days and the quality of life they receive is outstanding.