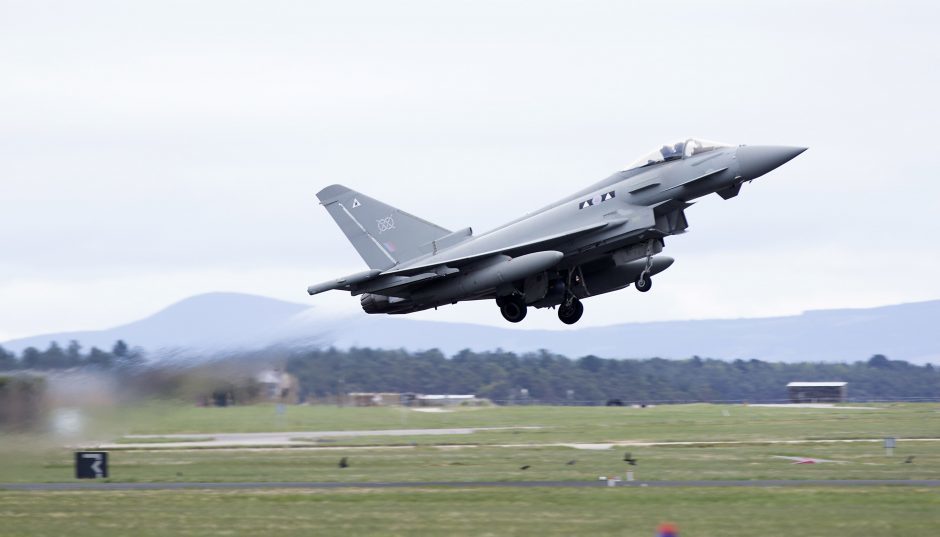 Fighter jets from RAF Lossiemouth have been deployed to drive Russian aircraft from Nato airspace above the Baltic States.
Four Typhoons took off from the Moray station yesterday and headed for the Amari airfield in Estonia, amid reports that Russian jets had been increasingly threatening northern Europe.
The jets are expected to remain on the peacekeeping mission for the next four months, and will be called upon to intercept the Russian aircraft and escort them from the area.
The four Typhoons from RAF Lossiemouth's II(AC) Squadron began departing from the base around 9am yesterday.
US Air Force surveillance planes and F16 fighter jets from Portugal are believed to have joined them in the policing mission later in the day.
Last night, a former RAF Lossiemouth engineer said the Typhoon deployment sent a clear message to Russia.
He said: "The Russians are obviously flexing their muscles, and this is our way of saying that we have fighter jets and we are prepared to deploy them.
"Countries like Estonia and Lithuania don't have the money to defend themselves, so protecting them is part of the UK's duty as part of Nato."
Last year, RAF Lossiemouth personnel served as part of the UK's commitment to the Baltic Air Policing Mission between May and August.
When the crews returned, their efforts were hailed as "exceptional" in keeping the peace.
During their four-month spell stationed in Estonia, jets from the Moray base were launched 17 times and intercepted 36 aircraft.
They tracked and deported Foxhound fighter jets and Backfire C bombers, and achieved the first UK intercept of an A-50 Mainstay airborne early warning and control aircraft.
As part of one mission in July, the skilled pilots intercepted 10 Russian jets and escorted them from the area.