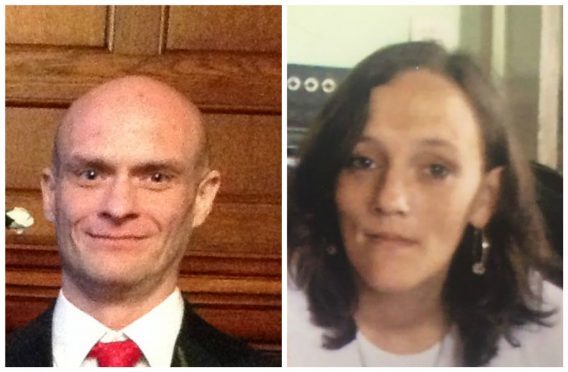 Two people killed in a double murder suicide were repeatedly stabbed during a sustained and frenzied attack, it has been revealed.
Jealous murderer Hugh Gallacher attacked Tracy Gabriel and Keith Taylor before plunging 130ft from an Aberdeen tower block balcony to his death.
Following the tragic incident, which took place at Tillydrone's Donside Court, in July, few details were released about the deaths.
But last night death certificates revealed Mr Taylor, 43, died from multiple stab wounds to his chest, abdomen and neck, while the mother-of-four suffered repeated stabbings to the chest.
It is understood officers had been called to the scene after reports of a disturbance at Miss Gabriel's flat where they found the pair dead on their arrival.
And police were present at the time Gallacher leapt to his death. An investigation was subsequently launched by the Police Investigations and Review Commissioner (Pirc.)
Officers revealed at the time they were not looking for anyone else in connection with the tragedy.
Further details stated on the death certificates suggest the pair both died at around 8.20pm on July 19 – five minutes after the police were called. No other causes of death were listed were listed.
Gallacher's death certificate has been registered in Rutherglen.
Mr Taylor was a senior electronic technician and had spent the evening before his death drinking with 40-year-old Miss Gabriel in her flat at 46 Donside Court.
He had lived across the hall, at number 48, with his wife Linda van Beek.
It is believed that on the night of the murder Gallacher made his way to the twelfth floor flat to confront them.
Neighbours previously revealed he used to wait outside the block to fight with them as he was jealous of the relationship Mr Taylor had with former partner, Miss Gabriel.
One said at the time: "We knew Tracy and Keith and they said that Hugh had been after them for a while. I think they were just friends. I don't think there was a love triangle or anything like that.
"I heard a few weeks ago he had gone out looking for them and he used to sometimes wait outside the block to fight with them."
After the killings it emerged Gallacher had a violent past having previously threatened to petrol bomb his own house whilst living in Aulton Court, Aberdeen.
And during an appearance at the city's sheriff court in May 2008 he admitted threatening to kill another neighbour Douglas Falconer.
On that occasion he locked himself inside his own flat at and refused to come out, threatened police with violence, posted a knife through a door and threatened to petrol bomb the building.
Last night Miss Gabriel's father Alex said he did not want to comment on her death.
Shortly after the tragic event her daughter Samantha paid tribute to her mum. She said: "She was a warm person who welcomed anyone with open arms."
A statement from members of Mr Taylor's family at the time described him as a "happy-go-lucky lad."
They said: "He had a great sense of humour and was always laughing and joking.
"His dad taught him to scuba dive and they enjoyed many diving trips in and around the Moray coast."
Mr Taylor met his wife when he worked in Holland in the oil and gas sector. They then moved to Aberdeen and got married in 2013.
He was described as a "loving husband" who was "devoted to his mum, dad and older brother".