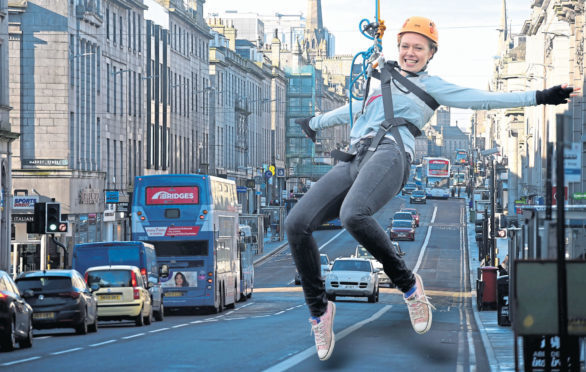 Road closures will be in place this Sunday as Aberdeen stages its latest In Town Without My Car Day.
A number of city centre routes will be closed and other restrictions in place as streets are given over to alternative activities.
A Skyfall zipwire will be erected on Union Street, while there will also be carpool karaoke and the CLAN Bike Stunt Show.
Other activities include face painting, an All or Nothing Aerial Display, a climbing wall and sessions with Bike Doctor.
This year's theme will be "walk with us", focusing on safe walking, cycling and the benefits of keeping active.
GetAbout, Co-Wheels, Air Quality officers and Home Energy Scotland will be there to provide advice on sustainable travel.
A free Park and Ride return bus will be provided by First Bus and Stagecoach and will be available to those travelling from Aberdeen or Aberdeenshire.
Vouchers should be downloaded in advance.
The associated road closures will be in place from 6am to 6pm on Union Street, Bridge Street and Market Street.
Belmont Street will also be closed between its junctions with Union Street and Schoolhill, Little Belmont Street, Backwynd and Gaelic Lane.
Waiting on either side of Little Belmont street will also be prohibited, with the restriction including disabled bays.
Other restrictions include the prohibition of right turns from Backwynd onto Union Street. The existing restriction of right turn manoeuvres from Union Street onto Bridge Street will be suspended.