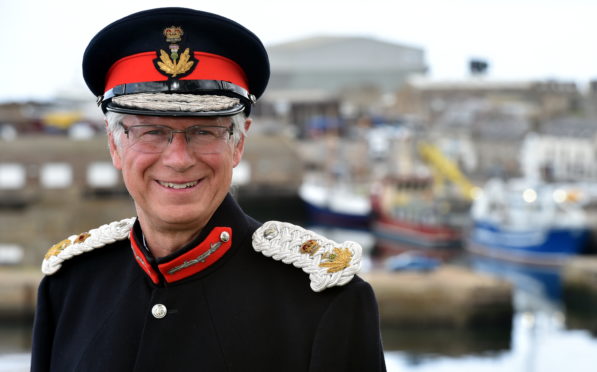 When Andy Simpson arrived in the north-east more than 40 years ago to embark on a teaching career, he had no idea it was the beginning of a journey that would lead to him becoming one of the region's proudest ambassadors.
Rather than putting his feet up after retiring, Mr Simpson embraced a variety of roles in the community.
And now he has transferred the skills he honed during decades in the classroom to the prestigious role of Lord Lieutenant of Banffshire.
As The Queen's personal representative in the area, one of his most important responsibilities is overseeing royal visits.
However, the pandemic has temporarily put paid to such events, and provided Mr Simpson with a somewhat tumultuous start to the role which he took up from Clare Russell last year.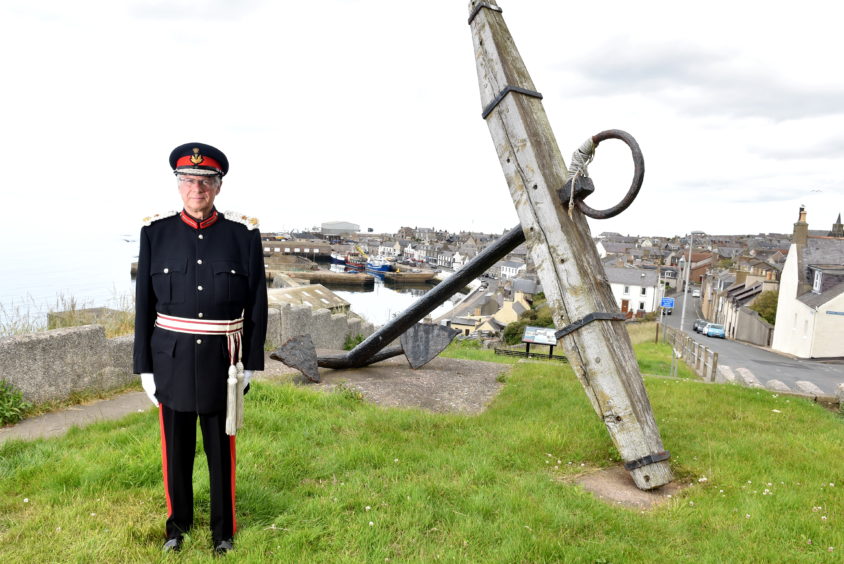 Speaking to the Press and Journal about his experiences teaching generations of north-east youngsters, and his present predicament, the 64-year-old hailed the community spirit he has observed as locals help each other through the crisis.
He said: "I wasn't really expecting to be asked to do something like this when I first came to the area nearly 40 years ago as a teacher, but the response has been tremendous.
"No, I would never have imagined going into a role like this. However, I always work to the best I can.
"It was a privilege to be asked to take on such role, following in the footsteps of Clare Russell who had been a fantastic ambassador for Banffshire.
"I have thoroughly enjoyed it so far and one of the great pleasures is you get the opportunity to meet a wide variety of people.
"This has ranged from birthday celebrations or wedding anniversaries through to planning potential visits from members of the royal family."
Mr Simpson studied at Aberdeen University from 1975 until 1979 and later earned a postgraduate certificate of education at Aberdeen College of Education.
He was a teacher of religious and moral education at Turriff Academy for years and became department head.
Big Interview: More from this series
September 7, 2020

August 24, 2020

June 29, 2020

June 15, 2020

May 4, 2020

April 6, 2020
Shortly after that, he became a staff tutor at Elgin High School and was later promoted to assistant headteacher, deputy head and headteacher.
Mr Simpson retired as Elgin High School headteacher in 2016, after 13 years at the helm which included overseeing the creation of a replacement building which opened in 2017.
Since then, he has been busy with numerous community roles including as session clerk at Macduff Parish Church.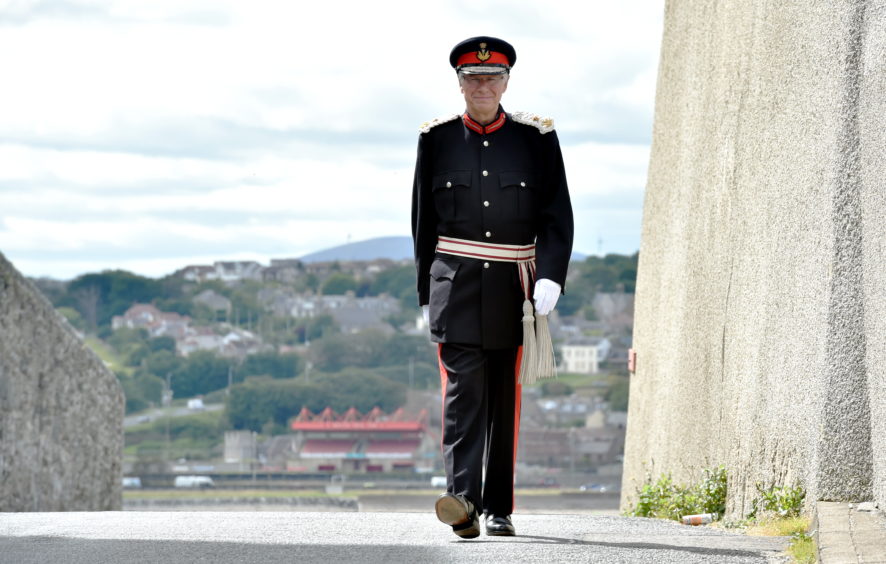 He currently works part-time as a tutor at Aberdeen University's school of education.
Mr Simpson said he was "surprised" when he was asked to succeed Mrs Russell last year and since taking on the unpaid official position, the Covid -19 pandemic has posed his biggest challenge as the sort of public events he would usually appear at as a dignitary all fell through.
He added: "The biggest challenge has been the pandemic, especially as a lot of activities from March that I was due to attend had to be cancelled.
"It is all about adapting your role and how you support and encourage people in this situation.
"The community spirit is going to be vital, bit the wonderful thing about our area is that this has existed for generations and continues to this day.
"What has happened over the last few months has really given a boost to this spirit and people have had time to speak to neighbours.
"More people are getting involved in volunteering, and that can only be good for the future of our communities.
"We need to build on this together to help individuals and businesses to recover from this pandemic."
The teaching veteran explained how his years handling lessons had served as the perfect training ground for his new position.
Mr Simpson said: "One of the obvious skills required for both posts is public speaking, in teaching you have to be prepared to stand up in front of people and speak.
"As a headteacher, you speak to large audiences.
"Another one is working with a wide variety of people. I'm used to working with and being seen by everybody in the community.
"Another one is understanding the importance of community and sense of identity that schools and wider communities have."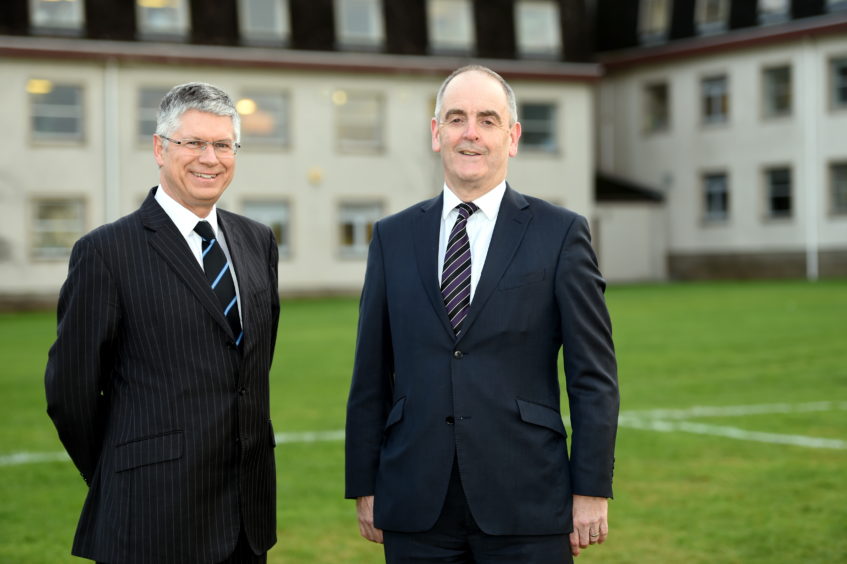 Mr Simpson is now keen to push initiatives that recognise and celebrate the work of volunteers and businesses across Banffshire.
He added: "I want to celebrate, encourage and publicise the good community activities in our area.
"The first role of the Lord Lieutenant is to represent the Queen in the area and one of the things I want to do is to arrange visits of members of the royal family so they can see, celebrate and recognise the tremendous work in the area."
And Mr Simpson is embracing social media to help grow awareness for businesses reopening as lockdown eases.
He said: "I want to increase the use of social media, which has already been highlighted with the lockdown.
"We have to use social media to promote ourselves and our communities.
"During the lockdown, it has been the only way to communicate with people as normally I meet people in person – however that couldn't happen."
A helping hand
The Moray Emergency Relief Fund was established to help those who most need help get through lockdown.
The UK and Scottish governments, as well as councils, have set up a variety of relief measures to provide aid to those affected.
However, concerns persist that some who are suffering severe hardship are still slipping through the cracks.
The fund set up by the lord lieutenants of Banffshire and Moray, Andrew Simpson and Major General Seymour Monro, has received more than £100,000 to be dished out.
Donations came from locals and businesses to help those struggling to make ends meet in the crisis.
The lord lieutenants, Moray Council's convener Shona Morrrison and chief executive Roddy Burns, as well as businessmen Sandy Adam, Charles Milne, Bill Robertson and Jim Walker ,alongside other trustees, have the job of considering applications.
Almost 350 requests for cash have been approved since the scheme launched in April.
This fund has focused mainly on those whose livelihoods have been affected but grants in the initial weeks also included children without computing equipment to keep up with school, which prompted Moray Council to establish a loan scheme for pupils.
For Andy Simpson it was important he played his part in helping families suffering from financial burdens caused by the Covid – 19 pandemic.
Mr Simpson said: "It has been a really important fund in helping people during these difficult times.
"This fund has also showed examples of tremendous support from local businesses and individuals in helping others.
"The fund will continue to help people."
Application forms can still be available to download on the Moray Council website and should be posted to The Chief Executive's Office, Moray Council, High Street, Elgin, IV30 6BE.
Details on how to donate to the fund by bank transfer or by cheque will also be on the council website.