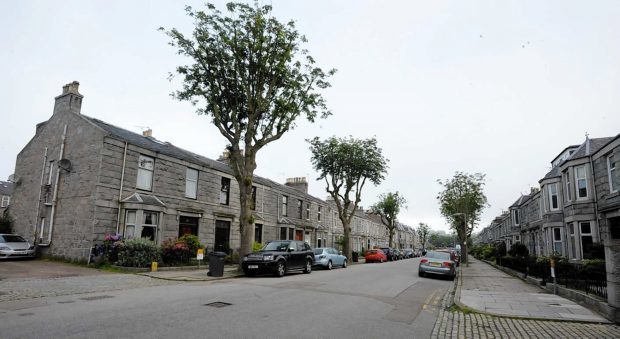 A controversial redevelopment of a Victorian flat has been approved despite a number of objections from the public.
The Roseberry Street property, in Aberdeen, will now be turned into a five-bedroom house of multi-occupancy (HMO), following months of legal wrangling.
The committee had rejected the proposal last year but its decision was subsequently overturned in court, after the applicants appealed.
It was ruled the authority should give the licensing application, which was put forward by the property owners, Barrie and Lesley Dear, fresh consideration.
More than 15 letters of objections were submitted against the scheme, with a number of people invited to speak at yesterday's meeting.
Among the concerns raised by opponents was the noise impact of the development, the potential for anti-social behaviour, and the strain it would put on the street's parking provision.
One of the objectors was Jean Ward who has lived on the street for more than five decades.
The 81-year-old said: "Everybody (on the street) is friendly, everybody is helpful, and this is the reason that I still live in a house that's far too big for me.
"If this HMO is granted then when will the next one be allowed, very soon I would have thought. It gives me a great deal of concern what's going on at the moment and would certainly not make the latter part of my life as it has been over the past 50 or 60 years."
Rosemount and Mile End Community Council was also opposed to the scheme.
Both the Dear's solicitor, Tony Dawson, and the prospective letting agency, Grant Property Solutions, were at the meeting to respond to the objectors.
Mr Dawson said the applicants had taken on board the responses from locals, and had taken action to resolve a number of issues.
He also said there was no evidence to support neighbours' concerns that the HMO would lead to an increase in antisocial behaviour.
Mr Dawson added: "No landlord wants bad tenants or bad patrons, it causes absolute mayhem."
He said the applicants had offered to reduce the duration of the license term from three to one years, to allow objectors to bring back any concerns they might still have to committee.
This plan was accepted by committee, after deputy leader Marie Boulton said it was the "best way to get to a half-way house".