Anne Macleod opened the door of the toilet with a sigh.
A note on the window said the Strathy Bay facility – a busy pitstop for North Coast 500 tourists – is closed for drainage repair.
The toilet, which was built by residents to save the nearby beach from human waste, is blocked again with nappies, wipes and sanitary wear, and the sink is clogged with sand surfers washed off their wetsuits.
It's upsetting for Anne who fiercely campaigned with others in the community for grant funding to build the facility, and she continues to care for it, asking nothing in return.
It's just one of many similar scenes all along the NC500, where public toilet access is scarce, and visitor number high.
'All that work – what was the point?'
The septic tank of the toilet at Strathy Bay is "choc-a-block" for the second time in just a few weeks.
It has to be emptied by a specialist firm before it can reopen – the sign on the door says this "may take some time".
It is the worst-case scenario for the 73-year-old crofter who keeps 26 sheep, eight hogs, six pet Highland cows, a cockerel, and a puppy on her small holding at Strathy Point with her 76-year-old husband Callum.
It is likely the repairs to The Log Cabin (as the locals call it) will have to come out of the community's pocket through fundraising.
"It's really disheartening when you're trying to provide a facility for everyone to use," said Anne. "It breaks my heart to see it closed with all the work that went into getting it here – it makes you wonder what was the point?"
Why is there an issue with toilets on the NC500?
Problems with small, community-run toilets like this one may seem minor, but when you live on a globally advertised driving route like the NC500, they are of considerable importance.
When the scenic NC500 driving route launched in 2015, Strathy Point and other parts of the most northerly parts of the Scottish mainland began to see an increase in visitors.
Caravans, campervans and tents started springing up everywhere with tourists keen to explore the wild and largely untouristed landscape.
But the wild landscape meant there were few public toilets, and with a sudden influx of tourists comes a sudden influx of bodily functions with nowhere to go.
Human waste became a problem – and it remains so today.
Many tourists are guilty of answering the call of nature on beaches and grasslands, setting up camp for the night, then driving away the next day, leaving their mess behind them for locals to find.
It means community-run toilets like the Strathy Bay Log Cabin are an essential part of keeping Highland beauty spots clean.
But Anne said the volume of tourists using the small toilet is becoming increasingly hard for the community to cater for, and the scale of the problem has "increased hugely" in the last few years
She knows most people appreciate the small toilet and bothy cabin.
They leave thank you notes pinned to the toilet's noticeboard, and the walls are scribbled with witty graffiti art.
But despite the kind words, the toilet is being continually blocked by wipes, nappies and sanitary wear.
People driving campervans have even emptied their chemical toilets down its small pipes that cannot cope.
And the sink regularly clogs when people come in off the beach and use it to get the sand off their shoes and wetsuits.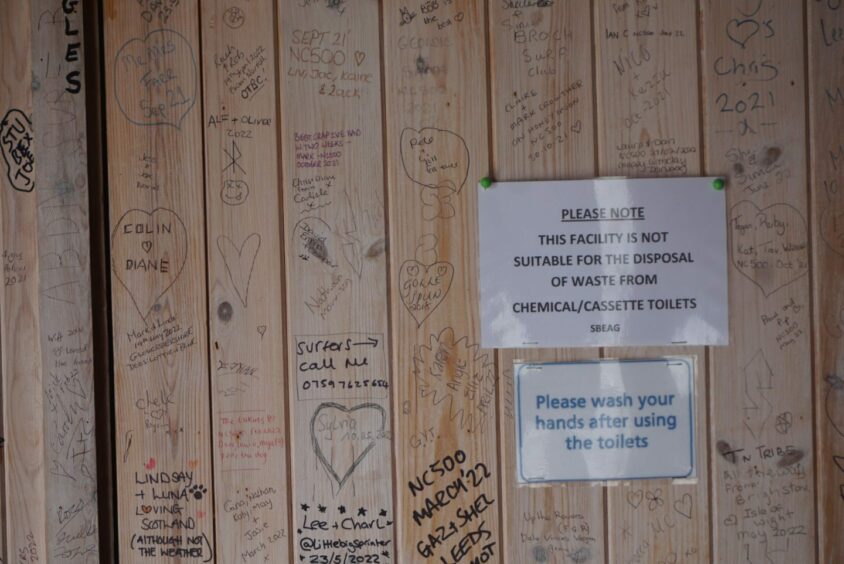 Vandalism is also evident.
Someone held a lighter to the wall leaving a black burn mark, knife scratches are notable elsewhere on the wood, and a small wind turbine that whirled away outside mysteriously disappeared.
'Locals suffer too without a loo'
Anne is worried the toilet's closure will see people once again doing their business on the nearby beach, but there is another issue at play.
Strathy Burial Ground is a stone's throw from the cabin toilet and funeral-goers and graveside visitors need to use it too.
"When you come from the Highlands a funeral tends to be very well attended," said Anne.
"Now there's nowhere now for those people to go."
Doesn't the council have to provide toilets?
Toilet troubles are being felt all around the North Coast 500 road route.
A farmer cutting verges on the A9 said "it's a problem everywhere".
"The tractor smells of urine by the end of the day and there are bottles of urine all over the place and bog roll and excrement too."
When wildlife rangers blocked off small parcels of shoreline some 50 miles west at Ceannabeinne Beach near Durness, Highland Council said it was to deter campers and to let vegetation recover.
But locals who spoke to the P&J said there was a second reason areas were sealed-off.
School bus driver Neil Fuller from Durness said the area had turned into an "open latrine" and "every day in the height of the summer there was a camper to be seen urinating – sometimes in full view of the passing school children".
Highland Council has no statutory duty to provide public toilets although they do provide a number of public conveniences anyway and facilities opened by communities are not the council's responsibility.
Communities are encouraged to build their own but as Anne's Log Cabin toilet demonstrates, this is easier said than done.
The Council currently operates 75 Public Conveniences throughout the Highlands.
In addition, it also has agreements with 52 local businesses to allow tourists to use their toilet facilities – a scheme which the council pumped an additional £190,000 into in 2022/23.
It gave grants to groups in Balintore, Kinlochewe and Lochinver, for motorhome waste facilities, and added schemes in Ullapool, Lochcarron, Brora/Golspie, Black Isle and Inverness.
Should NC500 toilet facilities be the responsibility of the NC500 company?
The problem with Anne's Strathy Bay toilet raises questions now about where the community's responsibility to stump up the running costs for these facilities begins and where it ends.
Anne said she does not understand why the North Coast 500 company which brings so many people to the area is not coming forward to help with additional infrastructure.
But the company's operations manager Craig Mills said public toilets are not in the original remit of the firm and he has never once used a toilet that had a sign saying "this is for tourists only".
That being said, he does appreciate that toilet issues have become a bugbear for residents.
Craig meets fortnightly with Highland Council and other organisations to discuss issues relating to tourism and with the aim of long-term solutions to some of the challenges – toilets included.
But "showcasing what the Highlands has to offer" is his remit and businesses along the North Coast 500 route are benefitting from its "phenomenal success", he argues.
He said: "It's the local businesses that make up the local communities that are ultimately getting the customers coming in and paying money for their services – and that's a big win for us because helping the social economic impact of the north Highlands is what we were set up to do."
Read more on this series of Nc500 stories here: