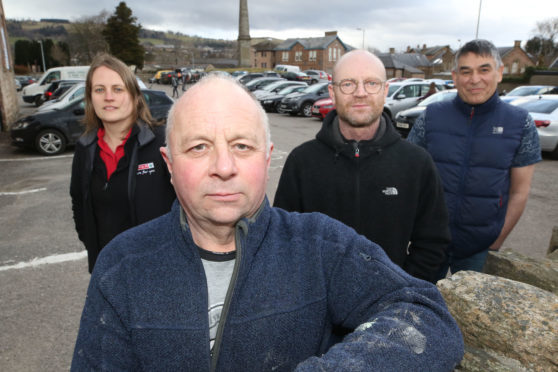 Dingwall parking campaigners have accused Highland Council of a "fait accompli" after it emerged parking meters have already been ordered despite promises of consultation.
A senior councillor last night confirmed the equipment had been purchased – but said it could be used elsewhere if Dingwall avoided the charges.
However, angry locals claim the move shows the council is just "going through the motions" offering to talk before imposing the controversial charges.
Campaigners have already warned the charges would deal a death blow to the Ross-shire town's fragile economy.
Budget Leader Alister Mackinnon was quick to dismiss the allegations as "scaremongering."
He said: "The parking meters have been ordered but they could be used for other car parks, not necessarily Dingwall.
"They could be used anywhere, they could be used in Fort William or Skye – there is a lot of scaremongering going on. I am aware that they have been ordered but that is not my department."
Mr Mackinnon defended the move to introduce charges by pointing out the alternatives were cuts to roads or teaching.
"If they don't want charges then the reality of the situation is that it will come out of the road's budget. The next item on the budget is the teachers."
George Murray, a member of the Dingwall Business Association, said: "I think it is a scandal – they have spent money on machines where they will be used.
"I think that it is a fail-fail for the council. I think it is a 'fait accompli' – but they still say they are going to have a consultation, it is just going through the motions."
Mr Murray said that if the meters have already been ordered then "there is obviously too much money in the Highland Council.
"What is weird is that they are trying to pass this off as normal – they still haven't answered our questions.
"If there is any trust left then I see it evaporating with every single utterance they make."
The issuing of introducing fees in the south car park in Dingwall triggered a wave of anger in the town.
The local authority believes it needs to raise revenue through regional charges that could net £1.4 million.
But local businesses and residents feel it would be "the last nail in the coffin" for Dingwall that would see it become a "ghost town."