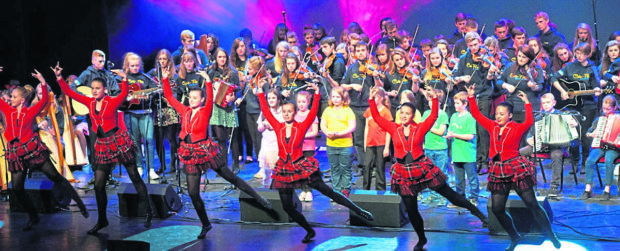 A festival celebrating the best the Highlands has to offer in the way of Gaelic culture, music, dance and food has opened across the region.
The Blas – meaning taste – Festival is being staged over nine days in 34 different venues across the Highlands and Islands and is expected to attract hundreds to one of the broadest line-ups of traditional musicians.
Among the many places staging events are Inverness, Skye, Stornoway, Fort William, Strathnairn, Rogart, and South Uist.
Last night saw a concert in the Ironworks in Inverness present an evening of music with "ground-breaking acts" Niteworks and Inyal.
Stornoway's An Lantair got underway with the Crossing the Minch concert, which saw world class pipers Calum MacCrimmon and John Mulhearn perform the music of late Pipe Major Donald MacLeod.
Broadford Village Hall staged a Ceilidh celebrating the 30th anniversary of Feis an Earraich, while in Acharacle folk group Trail West will perform Runrig's "Play Gaelic", which is to be followed by a Ceilidh Dance.
Even more lays ahead with the big names who have already signed-up for this year include Julie Fowlis who will be performing in Gairloch and Inverness.
Other performers during the Blas include "Ceilidh King" Fergie MacDonald, who will be in the Strathy Hall along with Ruaridh Cormack and Feis Air an Oir.
Award winning Mischa Macpherson, Skippinish, Trail West and others will stage a concert at Inverness' Northern Meeting Park alongside 500 young singers.
On the last day before the festival closes celebrating the 80th birthday of actress and singer Dolina MacLennan.
The festival is organised by Feisean nan Gaidheal in partnership with Highland Council.
One of the organisers Arthur Cormack said young people have played a key role in staging events.
He said: "This year their involvement will be even more widespread as young people take on a key role in creating organising and running events, offering them a range of experiences in the process."
Councillor Alister Mackinnon, who chairs the Gaelic Strategy and Implementation Group, underlined the importance of getting young people involved.
He said: "The young people of the Highlands are your future as we rely on them to be the traditional bearers of our language and culture."
Performances continue tonight in Skye, Strathy, Inverness, Sleat, Ullapool, Nairn, Portree and Fort William.