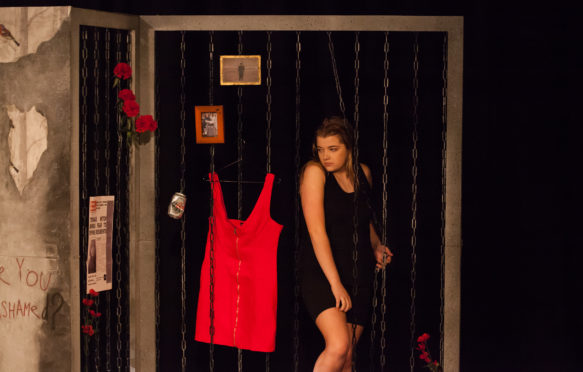 A new play, directed and performed by three young women from Mull, will be shown in Glasgow and Greenock this month.
The "stunning" production of Dark Vanilla Jungle by Philip Ridley – produced by island-based theatre company Comar – was well received by the audience who saw the performance earlier this week.
Audience member Jenny Des Fountain described the play by the three young women; director Kate Stevens, actor Flora Thomasson and designer Ruth Darling, as a "stunning work".
The island's former high school head teacher, Mrs Des Fountain, said: "Catch it if you can. Ruth Darling's clever set design laid out clues and metaphors for Comar's production of Dark Vanilla Jungle by Philip Ridley, a two hour one-woman show.
"Flora Thomasson, the accomplished 17-year-old actor poised between youth theatre and the professional industry, occupied and explored the impressive set, as she told the story of Andrea's quest for family, for love, for a sense of belonging.
"By turn she showed us both child and adult; someone frightened and frightening; vulnerable and aggressive. What was fantasy and what was reality? Were those her dreams or her nightmares?
"Thomasson's impressive emotional range kept her audience spellbound.
"Kate Stevens' skilled direction ensured the audience's initial emotional response was channelled into contemplation of the ideas raised."
After its premiere at Mull Theatre, the play is now on tour at Webster's Theatre, Glasgow on July 22,  Beacon Arts Centre, Greenock on July 23, and the Old Hairdresser's, Glasgow on July 24.