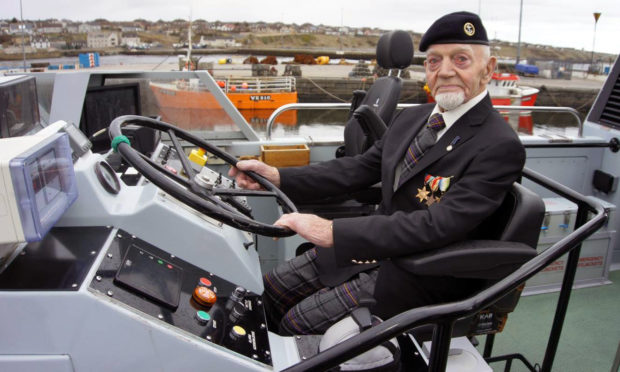 A funding windfall is ensuring veterans and elderly people in Caithness are receiving free hot meals and companionship during the lockdown.
Royal British Legion Scotland (Legion Scotland) has been awarded a £1,000 grant from the North Highland Initiative's Community Support Programme to support 35 residents across the area, ahead of Armed Forces Day tomorrow.
The service will also offer a friendly ear to those in need and check the wellbeing of people who have had limited or no face-to-face contact with others during lockdown.
Richard Polanski, a 98-year-old former sailor from Dunbeath, is the oldest veteran in the region to benefit from the new service.
Born in Poland in 1921, Mr Polanski is one of the last men still alive to see Hitler's flagship Bismarck in its death throes. Determined to fight for his country's freedom, he joined the Free Polish Navy as a gunner, helping to evacuate troops from Dunkirk in the spring of 1940 aboard the destroyer ORP Burza.
After the war, Mr Polanski fled his homeland when the Germans and Soviets invaded, eventually reaching Britain and settling in Caithness with his wife Joyce Burns Rosie, who he met in Glasgow.
The project is being supported by Mackays Hotel in Wick.  Owner Murray Lamont, a member of the local Legion branch, said: "We're really grateful to the North Highland Initiative for their financial support to help our veterans and pensioners get through this very challenging time.
"We're now able to make sure our elderly community get regular hot meals, as well as the companionship they may need while continuing to self-isolate at home."
Launched in March, The North Highland Initiative's Community Support Programme awards grants of up to £1,000 to initiatives in the education, conservation, and community service and support sectors in Caithness, Sutherland and Ross-shire.
Priority is given to projects where government support packages are unable to help and those ineligible for emergency grants.
Initiative chairman David Whiteford added: "We're delighted to be able to support Royal British Legion Scotland and our north Highland veterans as we celebrate Armed Forces Day."