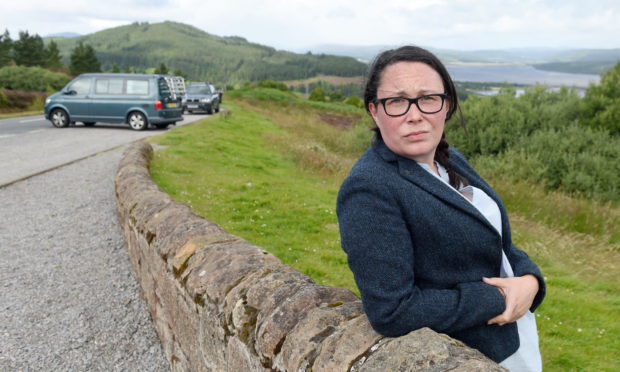 A Sutherland councillor is pleading with the Scottish Government to consider "no wild camping" zones in sensitive areas of the Highlands.
Kirsteen Currie, whose ward is north, west and central Sutherland, lodged a petition with the Scottish Parliament in September last year to allow local authorities to create zones where wild camping is prohibited, enforceable with an on the spot fine, to protect the environment and infrastructure of an area.
She now wants her petition to go before a parliamentary committee in order to be able to present evidence for her case, particularly against the backdrop of the current challenges to health and hygiene from the Covid-19 pandemic.
When she first lodged the petition, Ms Currie was subjected to such a barrage of online abuse and trolling that she took her councillor social media pages down, and has still not reinstated them.
Fire service called out to extinguish more than 50 campfires after 'dirty campers' descend on Highland beauty spot
She described her own passion for wild camping.
She said: "I used to work in Alberta, Canada, on a programme to help disabled adults and children go camping and I could see the incredible benefit on their lives.
"We had all sorts of challenging things to deal with including human and medical waste.
"Canada has very strict rules on dealing with waste to protect the environment and each other and you have to find a way of enabling a lovely experience while protecting the environment and taking all the rubbish away.
"When we go wild camping here in Scotland, we take a freedom toilet and empty it into our toilet when we get home.
"You wouldn't know we had camped there."
Her petition emerged from three years of growing concerns expressed by residents in the years following the start of the NC500 in 2015.
With local MSP Gail Ross, Ms Currie started formally gathering evidence from questionnaires she would ask residents to fill in as they were visiting communities.
"Overwhelmingly the feedback has not been positive.
Davie Black: We need more investment, not more legislation for wild camping
"There have been a lot of concerns and a lot of pleas for money, people saying we need infrastructure, we need help so that we can give people a really positive and welcoming experience because we can't cope with these numbers of people.
"When we first took these concerns to the NC500 people they weren't willing to accept there was a problem."
Ms Currie said her proposals are not targeted at genuine wild campers or mountaineers.
"I'm talking about the sides of the roads being eroded because of parking, sand dunes in the middle of a village covered in human faeces, and all sorts of other medical waste because of the pandemic.
"I'm specifically wanting to tackle a problem which is mainly around where people live and work, and mainly around roads, and I wanted to open up a discussion about how can we restrict and protect important places like scheduled monuments or graveyards or SSSIs while still being able to utilise and enjoy the outdoors.
"I thought of the idea of having locally controlled zones where communities could say there's no camping here and if you do it's an on the spot fine.
"I was met with a lot of animosity and anger, people not really reading and understanding what I was trying to do and assuming I wanted to end people's right to roam.
"There's a difference between having a right to roam and having your property respected.
"I have the right to live in a clean country, not one which stinks of urine."
Ms Currie said this year she is increasingly concerned about the safety of public sector employees working outside and their exposure to the virus.
Fears that vile wild campers could put off tourists from visiting north and north-east
"Should we send them to clean up in a pandemic? They are not trained in how to deal with human waste.
"Forestry workers are strimming in places well known to be contaminated with human waste, how can they protect themselves for what might fly into the air?"
Meanwhile in Inverness, councillor Ron MacWilliam received the backing of the city area committee when he proposed asking the Inverness recovery group to discuss the drafting of new bye-laws to introduce wild camping bans or regulation in compliance with the legislative 'right to roam' in the areas affected.
North MP Jamie Stone said he has raised a petition to ask for a roadside camping congestion charge in the Highlands, with the profit ring-fenced for investment in the roads and roadside facilities.
He said: "We are at the stage now where the benefits of roadside tourism are being outweighed by the coast to our roads, public services and the overall wellbeing of our communities."
Tom Campbell, executive chairman of NC500 Ltd said the organisation fully supports politicians' concerns about the behaviour of 'a minority' of visitors on the NC500.
""We welcome the opportunity to work with all elected members' to help address these issues as part of our series of NC500 business engagement webinars.  NC500 works proactively with Highland Council, Highlands and Islands Enterprise, Police Scotland and Visit Scotland, all of whom engage with local communities."
Visit Scotland's chief executive Malcolm Roughhead said VS is working closely with local authorities and other organisations to promote responsible travel.
"The Scottish outdoor access code clearly states the conduct we expect to see… we do not condone irresponsible behaviour."
A Scottish Government spokeswoman said: "We will be responding to Councillor Currie in due course.
"Ministers are aware of a number of incidents of littering, anti-social behaviour and damage to our natural environment since lockdown restrictions began to ease and are clear that this behaviour is completely unacceptable, and disrespectful to local communities.
"Everyone should respect the countryside and take their litter home. Littering is a criminal offence. If you do litter, you can be issued with a fixed penalty of £80 and, if prosecuted, be fined up to £2,500.
"On-the-spot fixed penalty notices can also be issued for anti-social behaviour such as vandalism, urinating and being drunk and incapable in a public place.
"Many are enjoying the opportunity to get outdoors after so many weeks spent close to home – and are doing so responsibly – but clearly a small minority of people are spoiling this for others, endangering themselves, nearby communities and our environment. We have partnered with Zero Waste Scotland and Keep Scotland Beautiful to develop a national anti-littering campaign for digital and social media which launched on 15 July.
"We expect all employers to ensure their workers have any protective equipment needed for their roles."